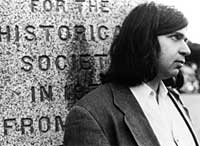 Frank J. Oteri
Photo by Melissa Richard
The term "new music" is somewhat amorphous. For many people, the serial music of Schoenberg and his disciples is still new music even though the 50th anniversary of Schoenberg's death came and went last month. Some people even think that Charles Ives is new music and he stopped composing soon after World War One. So when does new music become old music?
So much of what is exciting about "new music" is what distinguishes it from older music. A wider harmonic vocabulary, a wider array of timbre resources, etc. Will the 43-tone just intonation experiments of Harry Partch one day seem as quaint as the one-time radical use of major seventh chords in Beethoven's Eroica? Will the vintage synthesizers of Donald Buchla and Robert Moog, so important to the music of Morton Subotnick, John Eaton and scores of other composers one day be the domain of period-instrument specialists? Will all the experimental music of the past 100 years continue to thrill audiences a century from now when this music will be as far away from us as we are from composers like Camille Saint-Saëns?
Last month, the American Music Center's historic collection of over 80,000 scores and an almost equal number of recordings on LPs, reel-to-reels and other analog formats, was moved to The New York Public Library where it will begin a second life as one of the most significant historical resources for information about 20th century American music. Like so many other AMC member composers, I rushed madly to get as many scores of mine in there as possible. Pulling several all-nighters to try to get every last piece in before the deadline. Why the urgency? I barely have a savings account and I don't even have a will. I'm still relatively young and I rarely think about the future, let alone what people may do with my music then. Like most composers, I'm happy if I'm able to get something performed in the present. Yet the closing of the paper collection of scores by American composers triggered a whole host of thoughts about the future.
How concerned should composers be about the distant future? Ingram Marshall doesn't seem too worried that many of his most important scores will be virtually unplayable without him, but his legacy is assured by a remarkable discography. Bart McLean, however, is not so sure about the future and has compiled an exhaustive compendium of archival resources for composers to consider if they are concerned about what will happen to their music after they die. We asked Cecile Bazelon (widow of composer Irwin Bazelon), Walter von Wayditch (son of the late opera composer Gabriel von Wayditch), Roswell Rudd (student and friend of the late jazz composer Herbie Nichols), and Virigina Bortin, biographer of composer Elinor Remick Warren and the Secretary of the Elinor Remick Warren Society to share their thoughts with us on the legacies of these important, yet still not widely known composers. And we ask you to think about how you would like to be remembered in the future.
In our News&Views section this month, Judy Dunaway has done extensive research into how the MP3 phenomenon has affected the promotion of innovative music, which will have significant impact on the dissemination of music in the future. Dean Suzuki looks at the very present tense phenomenon of composer residencies and composer-led ensembles, while Greg Sandow ponders how composers can write tonal music nowadays without sounding anachronistic, or ever worse, like kitsch. Molly Sheridan talked with the three American finalists in the international Masterprize competition, which promises to find the masterpieces of tomorrow, and Amanda MacBlane sifts through 35 new recordings that have come our way which are now part of our musical history as long as CD players are around! Of course, the one thing you can't put off until tomorrow are today's concerts. We urge you to revisit our Hear&Now concert database throughout the month and discover new American music as it happens right now!
Will any of this new music be immortal? Who knows? Once upon a time the music of Telemann was everywhere, while the music of Bach was only known to a few lucky people who attended his sporadic church gigs. So there's a distinct possibility that the RealAudio sample you came across in SoundTracks this month by some composer you've never heard of before might just contain tomorrow's Musical Offering…