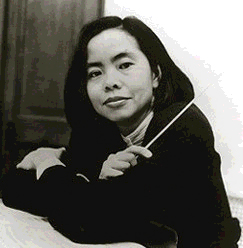 Photo by Veiga Jardim
I have collaborated with three choreographers on four different projects and I have learned and benefited a great deal from each of them. It has stretched my imagination, expanded my vocabulary, and put me in position to try things that I won't normally do. As I consider myself mainly a composer of "concert music," I made a conscious decision that each piece should be able to be performed without the dancers, which was the case with three of the projects.
I worked very closely with the choreographers. The initial ideas—such as subject matter and thematic material—usually come from them; then I develop my own musical vocabulary that will fit into their description. I like for the music to relate to the general subject matter but without being directly illustrative; it should help create an ambience to support the dance. I prefer not to write "wall-paper" music, the dance and the music should be on equal footing.
The first choreographer I worked with was Gina Gibney when we were both living in Seattle. We had many enjoyable meetings discussing the project, which resulted in a solo percussion piece entitled Lü. I think the dance was performed once, but the percussion piece had many subsequent performances. The second choreographer I worked with was Sally Silvers at the American Dance Festival in North Carolina. It was a wonderful opportunity for us—we were able to spend two months together, working with the dancers and musicians almost everyday. We presented our collaboration in a concert at the end of the festival. It was highly successful, as we were able to complement and draw inspiration from each other. Sally is famous for her humor, her use of precarious movements, and twisted, somewhat "unnatural positions" in her work; the music also ended up being more quirky and fun than what I usually would compose. The YCC (Young Composers/Choreographers) program of the American Dance Festival has provided great support for new works with live music over the years. Unfortunately it no longer exists as far as I know. It was also through ADF that I met June Watanabe, my collaborator for the next two pieces, both funded by Meet The Composer's Composer/Choreographer Project.
The first piece, E. O. 9066, was specifically related to June's personal experience—her internment with her family and other Japanese Americans during the Second World War. I tried very hard to create a soundscape using a sampled chorus to capture some of the feeling of helplessness and anger. This was also one of two occasions that I used electronics, which certainly expanded my horizons. Though the piece does not really stand alone, the three choruses can be performed as a separate concert piece. There is a CD of a shortened version on Tellus 26 from Harvestworks.
The second collaboration with June, …Like Waters, was more in the spirit of Cage and Cunningham. June suggested water as a subject, then I proceeded to compose a series of short self-contained pieces for the Abel/Steinberg/Winant trio of the Bay Area. It has been performed many times without the dance, and is available on Tzadik. Doranne Crable of Olympia and Amy Yopp Sullivan of Stony Brook have also choreographed it, each with very different result.
Watch a clip from EO-9066 with music by Bun-Ching Lam