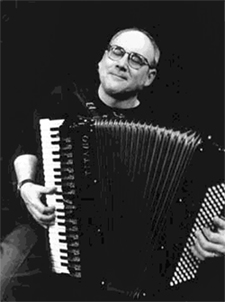 Photo by Jack Vartoogian
Just about all the music I have written for dance (over 25 scores) can stand alone as concert music; and the brunt of the repertoire that I play in concert, both solo and with chamber groups and bands, is music that I originally composed for dance. Sometimes I need to do a few things to tweak the dance scores for concert performance, like adding or subtracting repeats or adapting the orchestration for what I have available, but those are more issues of arranging than composition.
The big difference between my dance and concert music lies in genesis and process. Dance is a collaborative medium and, as such, I have many head sessions with the choreographer before beginning work on a dance score. Often times the choreographer already has a strong dramatic, thematic, or structural idea from which to start. I begin by making several sketches of possible musical material, recording it, and presenting it to the choreographer (or playing it over the phone!). The choreographer, in turn, works with it and gives me feedback on what, if any, of the material is suitable; and perhaps even a videotape of the dancers rehearsing with the music. With this in mind, I go back and work alone, continuing to develop the material we've agreed upon. With a really good working relationship, this give-and-take continues throughout the whole process, with neither of us getting too far ahead of the other. While the choreographer never offers musical suggestions, they will often ask for a change of direction in a place or way I might never have thought of, and that is an exhilarating and liberating part of the process for me.
Hear a RealAudio sample of Guy Klucsevsek's newest recording
Watch a clip from one of Wing/Prayer with music by Guy Klucevsek