Can you believe another year just flew by? Well, thanks to online banking and debit cards, at least we don't have to remember to fill out the correct year when writing a check at the grocery store—do stores still accept checks? Anyway, another year, another concert season. Let's get down to business.
They grow up so fast, don't they? I bet that sentiment is running through Gil Rose's head about now as the Boston Modern Orchestra Project turns ten. Yes, BMOP is smack dab in the middle of tweendom. To celebrate, the group performs world premieres by Ezra Sims and Osnat Netzer (January 25 info). Beantown composers Michael Gandolfi and Leon Kirchner have compositions on the program as well as a performance by Byron Hitchcock, winner of the BMOP/NEC concerto composition, playing William Bolcom's Violin Concerto.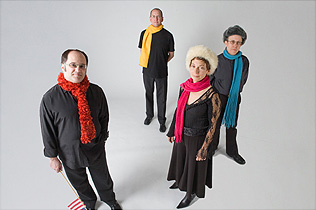 Seattle Chamber Players
What happens when a couple music critics team up to curate a festival? Probably a lot of shouting matches, but in the case of Seattle Chamber Player's Icebreaker series, dubbed Critic's Choice, it appears that Kyle Gann and Alex Ross are on the same page. The three day event includes a fully packed day of panel discussions, a film presentation, lectures, and a concert (Janurary 25 – 27 info). By the end of the weekend you will have heard more than a dozen world premiere compositions commissioned specifically for the occasion, penned by John Luther Adams, Mason Bates, Anna Clyne, Kyle Gann, Alexandra Gardner, Janice Giteck, Judd Greenstein, Elodie Lauten, and Nico Muhly. In keeping with one of the festival's mottos – The American Future: All Ages/No Rules – there's a performance by William Duckworth's and Nora Farrell's Cathedral Band, a piece by Eve Beglarian, and William Brittelle's Michael Jackson, which you can listen to right now on MySpace. Oh, if you need any more convincing on this gig, two words: Feldman Marathon! Seattle is making Brooklyn a little jealous with this one.
Oh, and speaking of Feldman, the Los Angeles Philharmonic is dabbling in the quiet-zone, performing the composer's Turfan Fragments (January 11 info). The best part about this concert is that you don't have to sit through a Bruckner symphony to get to the modern works – the whole program is 20th century. Ives, Berio, Benjamin, Zimmermann…the only thing missing is Dudamel.
If you like architecture as much as modern composition, here's a little of both: The Calatrava-designed Milwaukee Art Museum plays host to the Present Music ensemble (January 12 info). The plan is to perform compositions in unique spaces within the museum for a migrating audience. A more traditional sit-in-a-chair approach will be used for works by Randall Woolf, Kamran Ince, and a world premiere of a new piece by Alex Mincek. Another museum, Chicago's Museum of Contemporary Art, presents Paul Dresher's chamber opera The Tyrant (January 25 info). (Subliminal message: Impeach Bush) If you're in the area, checkout the MCA's exhibition called Sympathy for the Devil: Art and Rock and Roll since 1967, but hurry – the show closes the first week of the new year (now through January 6 info).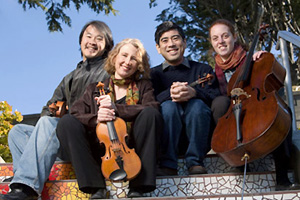 Del Sol String Quartet
Photo by Jim Block
I'm a sucker for the didjeridu, and a fan of the Bay Area-based king of the "didge" Stephen Kent. I was thrilled to see that he's performing with the Del Sol String Quartet (January 29 info). The program, called Coming Together, gets its title from a Derek Bermel piece for clarinet and string quartet, which probably spawned programming the zippy klezmer-inspired Osvaldo Golijov work Dreams and Prayers of Isaac the Blind. The rest of the concert includes a piece by Mexican composer Arturo Salinas and Aussie Peter Sculthorpe's String Quartet No. 16 – you can infer which piece includes didjeridu.
While trolling around MySpace, I found some interesting gigs like this one in PA. And this one which Maciej Flis bills as Bassoon Night! High on my list of instrumental favs, but by no means a didjeridu. But my favorite internet find is a little gem called SIX_EVENTS (January 21 – 27 info). Composer Jason Eckardt seems to be onboard. But wait a minute here. Are we going to let the British co-opt America's wacky, experimental tradition like this so easily? Sure! Why not? So I want to see all my peeps out there doing strange things on buses, in bars, grocery stores, and parks. Go crazy—punch a higher floor.