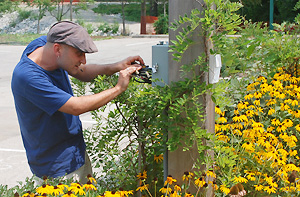 Cenk Ergun makes some adjustments on his new sound installation Panta Rei
Students, the time has come again to shell out exorbitant amounts of cash for esoteric textbooks you'll never open again by year's end. As for the rest of you graduates and dropouts, September means back to the concert hall. I know, I know. The weather is way too nice as summer gives way to fall—it verges on cruelty to coop us up indoors. Well, at least one composer has our back. Members of The Knights and soprano Susan Narucki take to the streets to perform the world premiere of Lisa Bielawa's Chance Encounter (September 28 info). Surprising unsuspecting passersby, the 30-minute work for 12 migrating instrumentalists and vocalist features a series of arias pieced together from texts overheard in public spaces by the composer, her co-conspirator Narucki, and others. Sounds interesting—eavesdropping for artist's sake!
Also in the great outdoors department we find Cenk Ergun's sound installation Panta Rei at the Indianapolis Art Center (September 14 info). The San Francisco-based composer is utilizing ICA's new, get this, Nina Mason Pulliam Sensory Path—hey, at least it's not the Snapple Sensory Path or the likes—to trigger an ever-changing wash of sounds captured in the surrounding landscape which have been digitally altered. One of these days I'll be rich enough to have a sensory path named after me. Ah, one can only dream.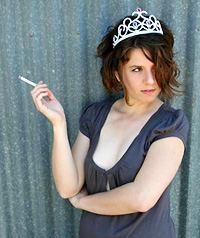 MaryClare Brzytwa performs at the 2007 SFEMF
Although housed indoors, another Bay Area resident, Elise Baldwin, is creating a sound installation in the Project Artaud Gallery, but that is just the tip of the iceberg when it comes to the eighth annual San Francisco Electronic Music Festival (September 5 – 9 info). Covering a broad range of approaches, the festival plays host to David Behrman and Annea Lockwood, both of whom duet with percussionist William Winant, as well as local scenesters like Fred Frith, MaryClare Brzytwa, Zoë Keating, Lesser, Nommo Ogo, and Les Stuck. Other performers from Southern California, Mexico, and Canada will converge, plug in, and make some righteous hums, bleeps, and beats.
Let me squeeze in one more sound installation here: Composer Matthew Levy's Lament can be heard alongside paintings by Elyce Abrams at Philadelphia's Bridgette Mayer Gallery (September 4 – 29 info). The piece is an electronically manipulated reworking of a saxophone quartet created in response to Abrams's visual sensibilities.
Just when you thought it was safe to go back into the concert hall—deh dum, deh dum—eleven venues, eleven Chicago neighborhoods, eleven ICE concerts in one week! (September 22 – 30 info) No details yet, just a little warning for those in the windy city: brace yourselves for impact.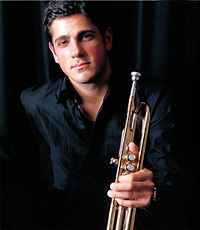 Dominick Farinacci plays the Detroit International Jazz Festival
In Minnesota, pianist Nicola Melville tackles another ambitious project, performing 12 newly commissioned works by Doug Opel, Stephen Paulus, Augusta Read Thomas, Kevin Beavers, Gabriela Frank, Phil Fried, Stacy Garrop, Marc Mellits, Mark Olivieri, Carter Pann, Phillip Rhodes, and Judith Lang Zaimont (September 28 info). Whew. Overwhelming in a completely different way is John Luther Adams's six-hour sonic epic Veils. A new live-performance version featuring Fred Frith premieres at the Output Festival in Amsterdam (September 28 info). For the full experience show up by 6pm, when the piece starts as a sound installation. Be sure to take a bathroom break before 8:30, that's when, without interruption, Frith takes the stage. No need to hit one of those, ahem, "coffee shops" beforehand, this gig will be plenty trippy on its own. For yet another way to overwhelm the senses, checkout the Detroit International Jazz Festival featuring big hitters like Regina Carter, Herbie Hancock, Yusef Lateef, the Dave Brubeck Quartet, Medeski Scofield Martin & Wood, and Don Byron's Junior Walker Project, as well as rising stars like Sachal Vasandani, Chiara Civello, and Dominick Farinacci (August 31 – September 3 info).
Here's a festival that you'll really regret isn't held outdoors, featuring performances of music by Philip Glass and Terry Riley; it's a little something called the Grand Canyon Music Festival (September 1 – 16 info). Ethel is the ensemble in residence, performing staples from their feisty repertoire and works composed by students of the festival's Native American Composers Apprentice Project.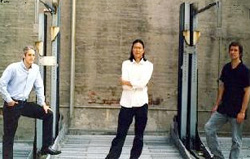 Real Quiet
About 500 miles southwest, another festival is slinging concerts by So Percussion and the Calder Quartet. One of the highlights of the Carlsbad Music Festival is a concert by it group Real Quiet performing a brand spanking new piece by festival founder Matt McBane, as well as works by Annie Gosfield, Phil Kline and Marc Mellits (September 24 – 30 info).
I got a festival for whatever suits your fancy… Trumpets: FONT Music (September 16 – 30 info). Guitars: Wall to Wall (September 13 – 15 info). Experimental free improv in John Waters-land: High Zero (September 24 – 30 info). Pretty, pretty music with the potential to sound ugly: Between Thought and Sound—Graphic Notation in Contemporary Music (September 7 – October 20 info). A birthday party: John Cage at 95 (September 5 info). Can't make up your mind: TBA (September 6 – 16 info) or Wordless Music Series (September 14, 20, 24, 29 info).
Clearly the new music scene has awakened from its summer hibernation, and after the fall equinox, things are just going to start avalanching to that too-many-concerts saturation point. Until then: happy listening.