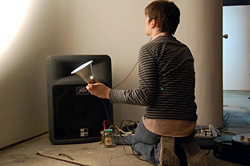 Bee Mask
As the summer heats up, the ratio of softball games to new music concerts is sure to skyrocket. Yes, the official concert season doesn't kickoff for another month, but there's no reason to throw in the towel because there are plenty of ear-tickling events going on, even in this most musically arid month we call August. Etymologically speaking, this month should be pretty damn kick-ass, even awe inspiring, but with new music in hibernation we're going to have to venture out from our usual musical haunts in order to hear something interesting.
A good place to hunt for music is your local museum. Many institutions play host to everything from jazz and chamber groups to DJs and rock bands. The folks at the Museum of Contemporary Art Cleveland plan to make a really big racket this month by gathering noise bands from across Ohio for an eight-hour extravaganza dubbed We Who Are About To (August 25 info). Expect a lot of loud dissonance by the likes of Jerk, Bee Mask, Emeralds, Jukebox Value, Iron Oxide, KingDom, Black Wolf, Chum, and more. Sounds yummy.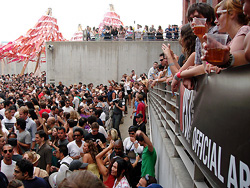 PS1's Warm Up
Even the Cadillac of art museums, MoMA, adorns its hallowed courtyard with music in the summer. The Soundgarden series features honest-to-goodness new music with chamber pieces by Roberto Sierra, Pablo Ortiz, and Narong Prangcharoen (August 5 info). Over at MoMA's hipper satellite PS1 in Long Island City, the notorious cross between beach party and nightclub known as Warm Up still manages to pack in scenesters of every stripe. Getting past the velvet rope takes a bit of time, so arrive early—and for good reason: the opening acts are all freaky new music people! Kudos to the folks at PS1 for snatching up Zach Layton for this year's curatorial team, which means we all get to hear the likes of Dewanatron (August 18 info). Ah, bizarre electronic music under a colorful outdoor art installation with sprinklers. Does it get any better?
I always thought there was something a little romantic about the Hollywood Bowl. The place certainly has an air of nostalgia—the first concert I saw there was the Thompson Twins. (I was, like, 14 or something. Whatever, okay.) For a different brand of reminiscence, the L.A. Philharmonic is performing a program of Bernstein, Copland, and Gershwin (August 2 info). Prepare yourself for some grandstanding with the ever-flashy MTT on the podium. And in the other corner, in the how-weird-is-that category: Musica Elettronica Viva hits Tanglewood (August 2 info). Seriously, I did a full-on Scooby Doo "rhuh?" when I read this. So, let me get this straight, if a group known for yielding power drills can take the stage at Tanglewood, then maybe the powers-that-be really are starting to get over the whole style wars thing—finally. In any case, Ozawa hall will never be the same.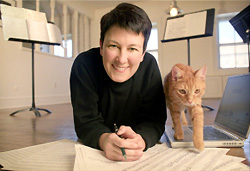 Jennifer Higdon
Another summertime music festival also brings some bona fide new music to the table. The Skaneateles Festival features a whopping five compositions by Kevin Puts, who will be on hand to conduct and perform his work. As the festival runs its course, expect to hear pieces by Samuel Barber, George Gershwin, and Jennifer Higdon along the way (August 8 – September 1 info). Kevin Puts and Jennifer Higdon also make appearances for the world premieres of their Symphony No. 4 and Soprano Sax Concerto, respectively, during the Cabrillo Festival of Contemporary Music (July 30 – August 12 info). They will be joined by eight other composers-in-residence, turning the sleepy surfer town of Santa Cruz a temporary new music Mecca. Geographically closer to the real-life Mecca is Ostrava New Music Days. You don't need to speak Czech to soak in all 15 events in 7 days (August 26 – September 1 info), but I'll give you one word that will enhance the experience: pivo.
Over in Santa Fe, new music almost feels like an endangered species this month, but there are some pickings out there to be had. The city's world famous chamber music festival has invited pianist Alan Feinberg for their Modern Masters series. While Feinberg's program is heavily European, Nancarrow's Three Two-Part Studies for Piano gets a listen (August 3 info). I also managed to tracked down a performance of Crumb's Voice of the Whale sandwiched between some Beethoven and Mendelssohn (August 20 info). On the other hand, modern composition is exploding in the Bay Area. Admittedly, it's a very tiny explosion, but one that should prove quite interesting. The sfSoundSeries presents a slew of short pieces by Liz Allbee, Mark Applebaum, David Bithell, Christopher Burns, George Cremaschi, Dina Emerson, James Fei, Matthew Goodheart, Matt Ingalls, John Ingle, Marisol Jimenez, Christopher Jones, Jon Leidecker, Hyo-shin Na, Pauline Oliveros, Dan Plonsey, Jon Raskin, Monica Scott, Moe! Staiano, Erik Ulman, Zachary Watkins, to name a few, along with a performance of Webern's Concerto op.24 (August 26 info). Of course the evening is called Small Packages.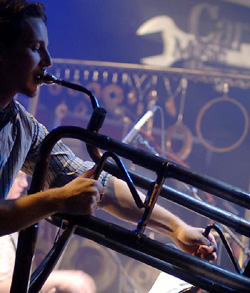 The Car Music Project
If you're searching for something big, look no further than U.K. premiere of John Adams's A Flowering Tree (August 10 – 12 info). Rumor has it that a fully-staged performance of the latest Adams opera won't hit American shores until 2009 at Lincoln Center. And speaking of New York City's megaplex of the performing arts, even though it's way too hot outside, it's time for the Lincoln Center Out of Doors festival. Among the many happenings are a spatial percussion piece by Henry Brant (August 22 info), an interactive work by Pauline Oliveros followed by her EHRES (Extreme High Risk Entertainment System) ensemble (August 21 info), and a memorial tribute to Leroy Jenkins by his former bandmates in the Skymusic Ensemble (August 15 info).
Perhaps the most unusual outdoor event: The Car Music Project. This ensemble led by composer Bill Milbrodt does a drive by in Bethlehem, PA (August 4 info) before parking at Lincoln Center (August 5 info). As you've already guessed by now, all the instruments on which they perform are built from car parts. I'm curious to hear how they'll blend with the din of taxicabs whizzing by on Columbus.