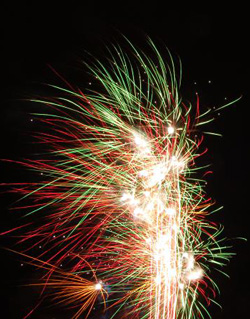 New music's nemesis?
Ah, July. With the regular concert season receding into mere memory, is the new music enthusiast destined for incessant renditions of "Stars and Stripes Forever" at the local bandshell for the rest of the summer? All the beach trips, barbeques, and fireworks displays in the world can't disguise the fact that summer means slim pickings for modern composition. On the brighter side, 'tis the season for festivals galore. So if sand and surf isn't exactly your thing, allow me to suggest some events to satisfy your musical cravings. Along the way we'll explore a couple of interesting ways to escape the heat, and a composerly twist on dinner-and-a-movie.
First things first. Let's address a particular national holiday when it's hard to avoid a certain little Tchaikovsky piece involving cannons. While you're bound to hear the same-ol'-same-ol' on the 4th, those gathered at the Miller Outdoor Theatre will be treated to something brand spanking new by composer James Stephenson, commissioned and performed by the Houston Symphony (July 4: info). As for the rest of us, looks like we get to celebrate our independence from English rule with a tune penned by a dead Russian dude.
Just to prove there are no centuries-old hard feelings, there are some kids in London presenting some of America's most nonconformist composers under the banner of Music We'd Like To Hear. Curators Tim Parkinson, John Lely, and Markus Trunk have decided they want to hear Michael Pisaro's The Collection, an assembly of 25 pieces for instruments of all kinds, both specified and unspecified (July 5: info). The following week, the series presents UNAMUNO, a choral work by Alvin Lucier, as well as his Sizzles for organ and drums with "fine strewn material" (July 12: info). Not to make you jealous, but the Brits also get to hear the Cecil Taylor Quartet play with Anthony Braxton—a first-ever—at the Southbank Centre (July 8: info) followed by another jazz legend named Ornette (July 9: info).
Seems the summer isn't slowing things down one bit across the pond. Keeping up with the Joneses, a small artist-run venue located in Oakland is setting its phasers on stun by hosting back-to-back music festivals and the Transbay Skronkathon. Oh, wait. What's a skronkathon, you ask? Well, think of it as a barbeque with more than 10 hours of live improvised music by scronkers from all over the Bay Area's creative music scene (July 15: info). It's pretty much quintessential summertime fun, only louder. 21 Grand gets the par-tay started with folks like Rubber O Cement, Larry Ochs, and Sharon Cheslow performing as a toast to the art gallery and performance space's seventh anniversary (July 12 and 13: info). Happy birthday 21 Grand! The venue also welcomes the Edgetone New Music Summit (July 22 – 28: info). The annual gathering of audio experimenters from the Bay and beyond consists of concerts and panel discussions that crossover the bridge with events at San Francisco's Musicians Union Hall and Community Music Center.
In southern California, the good folks at MicroFest serve up an outdoor concert of Harry Partch's music, performed on his original instruments, of course, at California Plaza in downtown L.A. (July 20: info). Is it me, or is it somehow fitting that Partch's settings of hitchhikers' graffiti are going to be performed so close to downtown's skid row? But hey, it's a free show. And if you happen to be writing your dissertation on the effects of microtonality on the homeless population, this is obviously a not-to-be-missed event.
Speaking of homelessness, I would probably end up in the early stages myself if I whipped out the credit card to pay for a trip to Rimini. But life might just seem slightly impoverished if I never get the chance to hear the intrepid Daan Vandewalle perform Alvin Curran's complete (thus far) cycle of solo piano pieces called Inner Cities. Those lucky enough to be in Italy for the Santarcangelo International Festival of the Arts are in for a transformative experience divided over two extended evenings. During the latter installment, Vandewalle plans to unveil Curran's latest installment Inner Cities #13 (July 12 and 13: info).
Anyone looking to beat the heat on New York's Lower East Side can wander into the Miguel Abreu Gallery to view some visually stunning scores by Robert Ashley, Alison Knowles, Christian Wolff, Pauline Oliveros, Anthony Jay Ptak, and the aforementioned Englishman Tim Parkinson. If you're not content just looking, you can hear performances of the exhibited work in addition to other compositions at the gallery throughout the month by musicians such as Anthony Coleman, Jennifer Choi, and exhibition organizer Alex Waterman (through July 28: info).
If you're interested—and I know that you are—in what young composers are up to, you'll want to checkout Zeitgeist's Lowertown Listening Session (July 18: info). Sounds to me like your typical concert on the down-low, which it kind of is. But this monthly series gives budding composers a chance to develop new work in a no-pressure environment. Expect discussion and feedback from the performers and composers. Think of it as an insider's look into the process of creating new works. (Yes, I know all you composers are all too familiar, but sometimes it's fun to watch it all unfold from the outside—at least give it a try, okay?)
When composers date other composers, conversations shouldn't always digress into combinatoriality. Here are two ideas for composer couples looking to breakout of their theoretical rut. In Virginia, you can have a gourmet dinner inspired by Aaron Jay Kernis's The Four Seasons of Futuristic Cuisine. No joke. Garth Newel Music Center's resident chef Randy Wyche will concoct a five-course meal based on the manifestos from the Kernis piece. Dinner is preceded by a cocktail hour and a performance of the composition in question by the unflappable eighth blackbird (July 14: info). If a movie is more your speed, Accessible Contemporary Music screens their film Composer Alive: Eastern Expressions which details their collaboration with Beijing composer Xiaogang Ye (July 20: info).