'Tis the holiday season, but I've got new music on the brain, so this year's shopping list might get a little experimental in the gift department. Let's see here, I think I have something for everyone—naughty or nice.
Ah ha, I found it! The world's best Hanukkah present: tickets to the first-ever restaging of Harry Partch's Delusion of the Fury (December 4, 6, 7, 8 info). It's hard to believe that the large-scale musical theater piece has never been remounted since its first production way back in 1969. This spare-no-expense undertaking includes the original Partch-designed instruments and will be performed by the members of Newband. So what does Partch's homemade brand of microtonal music have to do with menorahs and dreidels? Absolutely nothing, I'm sure, but I wouldn't know. I grew up feeling jealous of those kids who were showered with gifts eight nights in a row and then got to go out for Chinese food and a movie on the 25th.
Speaking of gifts, we all know an exchange or two is inevitable. Here's an interesting one: Bang on a Can brings its notorious marathon concert to Nebraska (December 1 info). People of Lincoln, don't be alarmed if your city sounds like Lower Manhattan, it's just the Bang on a Can All-Stars along with Meredith Monk, Don Byron, Glenn Kotche, and the rest of the gang. You'll have to shell out 48 bucks to see the entire show, but it's a lot cheaper than the roundtrip airfare to JFK. Oh, and what does New York City get in return? That's right, week after week of Nutcrackers, Messiahs, and boy choirs. Well, to even things out, we also get a certain violin-toting theoretical physicist on a sandy coastline (Dec 6 info).
If you're looking to get me a Christmas, Kwanzaa, winter solstice, or whatever gift, I'll gladly accept a plane ride to the Netherlands and tickets to this concert featuring Tom Johnson's latest piece, Galileo, and Anne LeBaron's "hyperopera" Crecent City (December 1 info). Also in the deal: I get to hang out in Amsterdam for a while. In return, I'll bring you back a souvenir (of the legal variety).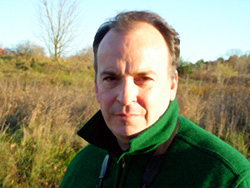 Phil Kline
This month signals another holiday tradition: Phil Kline's Unsilent Night. Although folks in Santa Barbara may never experience a bona fide white Christmas on home turf, they will receive a little holiday cheer of a different variety, new-music-style. Everyone grab a boombox and head for the Santa Barbara Contemporary Arts Forum, this year's starting line for Kline's roaming sonic vigil (December 6 info). Details about other upcoming Unsilent Night events happening around the globe will soon be posted to this MySpace page. If there's a performance near you, I urge you take part—trust me, you won't regret it.
For all of you heathens out there celebrating Festivus, I recommend a little concert called Sax and Violins (December 2 info). Brought to you by Chicago-based new music group Dal Niente, said instruments will perform works by Christian Lauba, Carmel Raz, and Lee Hyla, among others, inside the swanky Green Mill Cocktail Lounge. Eggnog is definitely in order.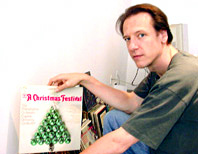 Christian Marclay
Okay, you can be straight with me. You're already sick of Christmas music, right? I mean, even if you've managed to successfully avoid the mall since the jack-o'-lanterns were packed and stored away for next year, you've already had your fill of "Jingle Bells" from other outlets. I have something to cheer you up: tons more Christmas music! Hear me out. If you've never been to an installation/performance of Christian Marclay's The Sounds of Christmas, you might consider making a trek to Switzerland. The Musee d'Art Moderne et Contemporain in Geneva plays host to Marclay's vast collection of Christmas-themed vinyl, and he's got everything from the classics to kitsch. Depending on the guest DJs invited to spin, the result can be compelling or downright hilarious. I once witnessed an amazing scratch-heavy set by DJs Streak and Realm at an incarnation of The Sounds of Christmas in San Francisco—I had never heard any holiday music sound like this before, or since.
Assuming that you might actually posses an insatiable appetite for all things X-mas, I offer to you Jazz at Lincoln Center's annual holiday frolic, hosted by poster-boy Wynton Marsalis and actress Glenn Close (December 10 info). Dubbed the "Red Hot Holiday Stomp," the show features a little New Orleans spice added to well-known holiday classics, as well as the premiere of Marsalis's Music, Deep Rivers In My Soul. If you'd rather curl up by the fire, you can tune in at home when it's broadcast live on PBS (check your local listings). But if you're like me, you probably prefer something a slightly more twisted. Up in Boston, the Firebird Ensemble is cultivating a new annual holiday-themed concert tradition by playing Jon Deak's The Passion of Scrooge and A Not-So Traditional Christmas Medley by Cameron Wilson (December 7 and 8 info).
If none of this cures your holiday season music woes, make a beeline to Stillwater, Minnesota, where you will be treated to brand spanking new Christmas-themed tunes performed by VocalEssence on their Welcome Christmas! concert (December 1 info). On the program are the winners of their annual Christmas Carol Contest. If you can't make it to the gig, stay tuned to Minnesota Public Radio and other American Public Media outlets which will announce the winners and broadcast the entire concert. Allow me to wrap this up by wishing everybody some holiday cheer—remember to enjoy your holiday music responsibly and in moderation. Because a jingle bell is a terrible thing to waste.