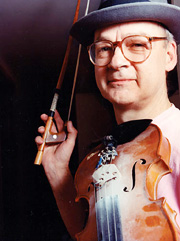 Tony Conrad
Along with the nice weather, the month of May brings those final exams one step closer, makes graduation seem like it might actually happen, and, of course, provides tons of concerts to distract all you students and non-matriculating music-lovers from your daily grind. If the day-to-day is really starting to get to you, here's a good way to blow off some stream: The No Fun Fest offers a smorgasbord of noise outfits and hardcore racket at deafening decibel levels to New York City's Knitting Factory (May 16 – 18 info) Scream as loud as you want—nobody will hear you. Some standouts in this year's line-up include Tony Conrad, Thurston Moore, Illusion of Safety, The Haters, Randy Yau, Damion Romero, Alan Licht, and this is just the tip of the iceberg. Go forth and bring earplugs.
If for some reason you prefer that your clangorous activities come with a large price tag, check out this benefit party for the Seattle Art Museum featuring a performance of Glenn Branca's Hallucination City for 100 guitars (May 16 info). Those who wish to circumvent the $175 admission price can probably swing free entry by volunteering their electric guitar prowess—with so many slots to fill, hopefully it's not too much to ask for them to throw in a drink ticket as well.
If the din of a hundred guitars isn't exactly your cup of tea, get all the drama you crave with a whole bunch of new American opera. Every year New York City Opera's Vox festival treats us to small doses drawn from a handful of new operas, as well as a few panel discussions, a post-concert reception—the whole nine yards (May 10 – 11 info). This year's Vox offerings include new works by Alice Shields, Justine Chen, Scott Davenport Richards, John King, Steve Potter, Cary Ratcliff, Sorrel Hays, Veronika Krausas, Robert Manno, and David T. Little. If you want to see David T. Little's entire opera, called Solder Songs, head to Houston, Texas, where Opera Vista performs a fully staged version alongside R. Timothy Brady's opera Edalat Square (May 31 info).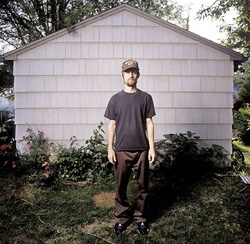 Martin Dosh
The Walker Art Center is honoring a Minneapolis local with a portrait concert (May 3 info). If you don't know Martin Dosh's music, familiarize. His work reflects the post-convergent attitude adopted by many young music-makers; meaning the music is impossible to classify stylistically because its influences are so inclusive and disparate. Do expect some altered Fender Rhodes and old, cheesy synths somewhere in the mix. Musicians Andrew Bird, Jel, Jeremy Ylvisaker, Andrew Broder, Mike Lewis, and others are expected to join Dosh on stage.
If you've been dying to hear those wonky organ pipes, installed in L.A.'s Disney Concert Hall as if they were modern sculpture, now is your chance. Terry Riley takes the driver's seat for a solo organ recital featuring some new compositions by the composer-performer (May 25 info). The big question that will soon be answered: How's Terry's footwork? A stone's throw away in the San Fernando Valley, Glendale to be precise, the Los Angeles Chamber Orchestra premieres a new piano concerto by composer Kevin Puts (May 17 – 18 info). Heads up—the new piece gets the Handel-Beethoven sandwich treatment, so be prepared.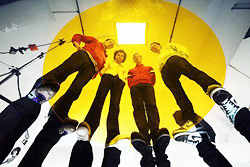 Battles
There are a lot of heavy-hitting improvisers migrating up north to invade Victoriaville, Quebec, in mid-May, which might explain why The Stone is showing films a couple nights around the same time. Anyway, leave it to those French Canadians to host a huge festival in a small city with a population under 50,000—how do they do it? Well, they've been doing it for going on 25 years now, and judging from the lineup, it might be worth a road trip to checkout the Festival International Musique Actuelle (May 15 – 19 info). Here's a shortlist of acts: Fred Frith, Elliott Sharp, Joe McPhee, Nick Didkovsky, Roscoe Mitchell, The Peeesseye (formally known as PSI), and John Zorn. Looks like Zorn has been bitten by the travel bug. He'll be in Moers, Germany, beforehand playing another festival with a diverse lineup including Cecil Taylor, Dälek, The Either/Orchestra, Theo Bleckmann, Peter Evans Quartet, and Battles. (May 9 – 12 info). Later, we'll ask Zorn which is better: Labatt Bleue or Warsteiner.
If you're looking to really treat yourself—I mean, your mom—this coming Mother's Day, I'd suggest heading on over to hear the Tokyo Sinfonietta perform the John Adams Chamber Symphony and Boulez's Dérive 1 at the Cité de la musique (May 11 info). Yeah, I know, it all sounds way too international for its own good, but a trip to Paris sure beats honoring her with flowers and brunch again this year.
Until next time, get out there and enjoy the weather.