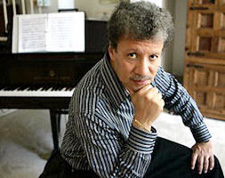 Anthony Davis
There are plenty of reasons to leave the house in November, so let's expend some energy before that end-of-the-month collective spike in tryptophan-levels that will likely leaves us passed-out on the sofa all night. If there's a theme to concerts taking place during the first week of November, it boils down to one word: concertos. In Beantown, the Boston Modern Orchestra Project puts their unique spin on the subject with Re-Inventions: Glorious and subversive music for keyboards (November 2 info). With world premiere piano concertos by Elliott Schwartz and David Rakowski—who couldn't resist using toy piano as well—this program appears to be, ahem, all keyed up. In addition, receiving its U.S. premiere, is Michael Colgrass's Side by Side for altered piano, harpsichord, and orchestra. Finally, Anthony Davis joins BMOP on stage as soloist for his piano-infused work Wayang V.
In the Sunshine State, the New World Symphony tackles—ready or not Miami, here he comes!—Charles Wuorinen's Five: Concerto for Amplified Cello and Orchestra (November 3 info). Sharing the bill is Steve Mackey's Turn the Key and Morton Feldman's, er, is-it-or-isn't-it head-scratcher Piano and Orchestra. Concerto or not, another Feldman piece, Flute and Orchestra, is being performed in Milan under less ambiguous circumstances (November 4 info). Note the translated title: Morton Feldman, Concerto per flauto e orchestra. Gee, I guess ignorance in the marketing department is a worldwide phenomenon.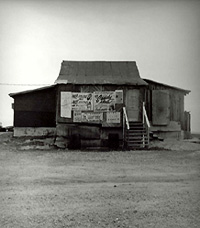 Poor Monkey's Lounge is located near Merigold, Mississippi
Photo by Easton Selby
You say electro-acoustic, I say electroacoustic, but no matter, because the real story begins with: Have laptop, will travel. With powerstrips awaiting, the tech savvy head south to Cleveland, Mississippi for the two-day festival known as Electroacoustic Juke Joint (November 9 and 10 info). The gimmick here is that some of the concerts takes place in a real-life, honest-to-goodness juke joint. The Poor Monkey's Lounge will play host to plugged-in works by Ken Davies, Dave Lisik, Jeff Morris, Barry Schrader, Greg Steinke, and Andrew Walters, to name a few. Nobody knows how the local yokels will react to the, let's face it, really weird electronic music, but let's hope this becomes the makings of a new annual affair. Out west, SCREAM (stands for Southern California Resource for Electro-Acoustic Music) is serving up their electronics analog-style (November 16 info). Analog Live! takes over the REDCAT space, combining old synths with acoustic instruments and video projection. Knob twitterers include Gary Chang, Richard Devine, Peter Grenader, Chas Smith, Thighpaulsandra, Paul Tzanetopoulos, and Nine Inch Nails member Alessandro Cortini.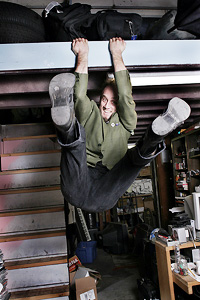 Bob Bellerue (a.k.a. Redglaer, a.k.a. halfnormal, etc.)
What do you get when you combine West Coast noise bands and a popular midwestern theme park? Either a booking agent is out of a job or gains some mad street cred. In the cock-your-head-slightly-to-one-side-in-confusion department, Six Flags Great America plays host to Los Angeles-based Redglaer and Impregnable alongside local noisemakers Climax Denial, Slow Owls, and Rex Winsome under the auspice of the Milwaukee Noise Festival (November 14 info). Announcement: The elderly dancing mascot Mr. Six will be replacing his requisite hearing aids with earplugs rather than engaging in his signature rug-cutting tonight.
They say everything is bigger in Texas. Well, there is a big opera premiere this month. Composer Christopher Theofanidis teams up with librettist Leah Lax to bring life to stories of Houston's African, Central American, Indian, Mexican, Pakistani, Soviet-era Jewish, and Vietnamese immigrant communities. The world premiere of the appropriately titled The Refuge will be performed by the Houston Grand Opera (November 10 info). Yeehaw!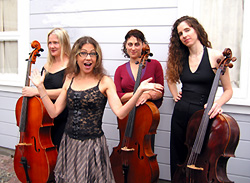 Amy X Neuburg and her Cello ChiXtet
Photo by Emily Bezar
The sisters are doin' it for themselves over in San Francisco Bay Area. Amy X Neuburg and her Cello ChiXtet (a.k.a. Jess Ivry, Elaine Kreston, and Beth Vandervennet) perform a new song cycle called The Secret Language of Subways (November 3 info). Amongst the backdrop of paintings by Rebecca Haseltine, composer Cheryl E. Leonard will perform with A. L. Dentel and Karen Stackpole (November 4 info). If you haven't seen her unique strategies for coaxing sound from seashells, kelp, sand, water, stones, and the likes, this is your chance to be one with nature.
Here in New York City, the huge event this month is Performa 07, a formidable orgy of live art events and exhibitions throughout the city (October 27 – November 20 info). The festival includes an exhibition curated by Esa Nickle called White Noise II featuring work by composer James Fei and sound artists Kabir Carter and Michael Northam (November 1 – 17 info). One of the more dramatic events is recreation of Allan Kaprow's 18 Happenings in 6 Parts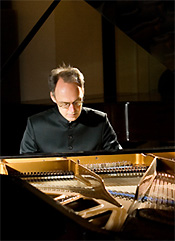 Michael Harrison
at the Deitch Studios in Long Island City—when maverick gallery mogul Jeffrey Deitch is involved, you know things are going to be crazy, in the best way possible (November 5 – 11 info). A perusal through the massive festival schedule will reveal many composers and musicians mingling with art world.
Also brewing in the Big Apple is the Wordless Music series. The latest edition featuring Nico Muhly and Valgeir Sigurðsson had a couple of unannounced guests show up to perform: Will Oldham and Sigur Rós. So it's no surprise that folks have been flocking to the indie rock meets modern composition scheme since it started last year. Next up is the downtrodden folk crooners Grizzly Bear alongside La Monte Young protégé Michael Harrison. Get ready for some retuned piano and long-form ivory tinkling. Future plans for the series include the U.S. premiere of Radiohead guitarist Jonny Greenwood's string orchestra piece Popcorn Superhet Receiver. Stay tuned…