Welcome to NewMusicBoxOffice, a new monthly column that operates like a giant concert calendar. We sift through all of the buzz in order to highlight not-to-be-missed events, wherever they may take place.
What would happen if the most rabid, hardcore fan of contemporary music suddenly won the lottery? Get ready for some serious jet-setting new music style, from the major premieres and oh-so-hip festival circuit to those funky little must-sees that you usually hear about long after the fact. To insure that you're not about to miss out on the event of the century, I'm putting together an insane itinerary geared towards the musical omnivore with an insatiable appetite.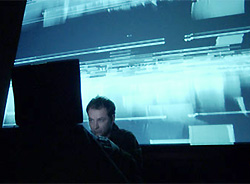 Scott Arford
The logical way to start might be in Toronto with the world premiere of Philip Glass's Book of Longing, however I hear that Rome is really beautiful this time of year. So let's stay up late—we're talking 3 a.m.—on the first of June for a computerized black metal-influenced performance by KTL (that's Stephen O'Malley from Sunn O))) and Peter Rehberg, the head honcho at the oh-so-sexy Austria-based label Editions Mego) during the Dissonanze 7 festival (June 1 and 2: info). For those of you lucky enough to be on a bona fide Roman holiday (i.e. not just sitting in front of the computer, as per usual), be sure to checkout some abstracted indie rock the following day by New York-based Battles at the more reasonable hour of 11 p.m. Hey, with a lineup including some Anthony Braxton offspring, you know it's going to be good. But prepare to stay up late again for a collaboration between Vienna's laptop wunderkind Fennesz and jack-of-all-trades Mike Patton. The perfect nightcap: a noisy A/V set of Mahlerian proportions by San Francisco's Scott Arford. This isn't the only festival around hell-bent on creating vast outbreaks of communal Visine binges, if you want to see acts like o.blaat, Bubblyfish, and Lee Curtiss at this years MUTEK (May 30 – June 4: info), prepare to burn the midnight oil.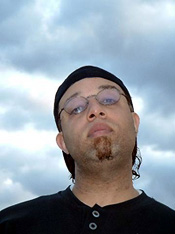 FULCRUM
After our fill of great Italian food and wine paired with some equally great music, let's consider jetting back Stateside. In Philadelphia, the electro-music 2007 conference and festival (June 1 – 3: info) promises to be one doozy of an event, featuring non-stop performances noon to midnight, along with workshops, demonstrations, and open jams. Expect some interesting sets by the likes of Margaret Noble, FULCRUM, I Eat Zeros and Ones, and PLOrk Beat Science, to name only a few. Luckily, you don't actually have to be in Philly to enjoy the sonic offerings. If the techno-gods allow, the entire festival will be streamed live as it happens over the internet. Here's the link if you'd like to tune in.
Since we won't be missing the goings-on at electro-music 2007 as long as we stick close to a wifi connection, let's skip the trip to Philly and stay in Europe a little bit longer. Then let's head to the UK for a festival that dares to feature its local bicycle orchestra. Hosted by venues throughout Bristol, the 2007 edition of the Venn Festival (May 31 – June 3 info) will welcome the Portland, OR-based Yellow Swans performing two sets: one electronic, one acoustic, and both of them definitely loud. Catch them on June 2 for a little hardcore matched with a strangely apt down tempo, deep house beat—sounds weird, but it works. Alright lads, now follow that with a good pint and an early evening DJ set by Berlin-based expat Safety Scissors.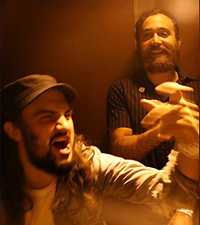 Yellow Swans
While we're living things up across the pond, the truly devoted are nestled in their sleeping bags, enduring the hard marble floors at New York's World Finance Center's Winter Garden for the longest Bang on a Can marathon ever (June 2 – 3: info). We're talking 26-hours of music kicking-off at 8 p.m. and wrapping up at 10 p.m. the following day. Expect to be serenaded by all the usual suspects and their new best-ist friends. On the same day—er, um—days, the Orchestra of St. Luke's fires up its Notable Women Festival (June 2 – 17: info), featuring music by the leading ladies of modern composition along with newcomers like Asha Srinivasan and Kati Agócs. You can catch these concerts the first three weekends in June at New York's Chelsea Art Museum on Saturdays, or the following afternoon at the more tranquil setting of Dia: Beacon, a temple of minimalist art perched aside the Hudson River.
Admittedly, we're spending a lot of time in Europe. Trust me, it's not a ploy to get our passports stamped as many times as possible, it just so happens that the spring festival circuit is strong in the EU at this time of year. So let's journey on to France for a showcase of SEAMUS (The Society for Electro-Acoustic Music in the United States) composers at the 37th Bourges International Festival of Electroacoustic Music and Creations (June 1 – 10: info) which takes place on June 5. The festival is filled with dozens of sessions and concerts, but there's no time to stick around and bust out the French dictionary. With only 24 hours to get to our next concert, now is the time we'll be regretting the fact that the Concorde has long been grounded. We're going to have to settle for subsonic air travel to our next locale: Charleston, SC. Since we missed the world premiere in Canada, now is the time to catch the American premiere of Book of Longing at the Spoleto USA festival (May 25 – June 10: info). This latest Philip Glass spectacle combines the composer's signature sound with the poetry of Leonard Cohen. While in town it would behoove us to check out Spoleto's Music in Time series on June 7, featuring violinist/composer Piotr Szewczyk's Violin Futura project, offering us a heap of short solo compositions by today's rising stars like Mason Bates and Daniel Kellogg, as well as a piece penned by the brain trust behind it all, MIT series director John Kennedy.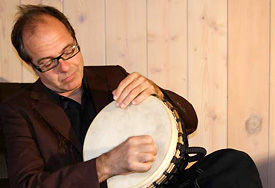 Steve Schick
As hard as it might be to leave those refreshing mint juleps behind, if we don't skedaddle we'll miss the tail end of America's best-kept secret: the June in Buffalo festival and conference dedicated to young composers (June 4 – 10: info). This underappreciated festival gathers emerging composers from around the globe, offering them master classes and workshops with prominent composers—including Steve Reich and Roger Reynolds this time around—and, more importantly, workshop performances and recordings of the participants' music by first-rate interpreters, such as the Arditti String Quartet and Steve Schick. Every evening, the general public is invited to hear exciting programs featuring works by the festival's mentor composers and other leading figures in new music. The closing concert on the afternoon of June 10 features the Buffalo Philharmonic Orchestra. Now put down those sloppy spiced chicken wings, it's time to pullout the passport again for a loosely related follow-up to the festival.
Immediately following June in Buffalo, Arctic dwellers and fortunate tourists will have a chance to hear festival founder Morton Feldman's mammoth trio For Philip Guston (June 10: info). If you've been itching to go to Iceland, like I have, what better reason than a four-hour-plus noon time performance at Listasafni Reykjavíkur (a.k.a. Reykjavik Art Museum) by the German new music ensemble that calls itself adapter. For those lacking patience for such extended durations should head to the West Coast for the conclusion of the Berkeley Edge Fest (June 7 – 10: info). Experience a little shock-and-awe in the form of two world premieres by Frederic Rzewski. It somehow makes sense that the composer's Nanosonatas, Book 2 (Nos. 8 – 14) and The Fall of Empire, Act 6: Sacrifice, created in opposition to the Iraq war, will first be heard in Hertz Hall on the UC Berkeley campus. Rzewski performs alongside Ursula Oppens and percussionist extraordinaire William Winant. You can watch Willie's tongue contort to the beat during this musical protest which also takes place on June 10.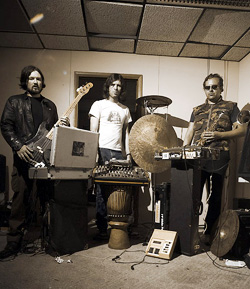 Wolf Eyes
Next stop: Barcelona, for a three-day late-night orgy of music that strays allover the stylistic map known as Sonar (June 14 – 16: info). This one is a biggie. You can enjoy concerts featuring everything from the Beastie Boys and Devo to heavier sonic offerings such as Wolf Eyes and Sunn O))). Also performing is Jeff Mills, a techno maven known for his hyper-flashy grooves and whose album Blue Potential, released last year, found him collaborating with the Montpellier Philharmonic Orchestra. But the real reason we're here is to see the undisputed godfather of noyze himself: Rahzel. Although this extreme beatboxer's roots were steeped in hip-hop while growing up, his eclectic sound defies classification. You gotta check this guy out on YouTube. After days on end of nonstop listening in Catalan—and coming to the realization that paella is actually unpopular among the locals, bummer—it's time for some R-and-R, a hot stone message, maybe even a pedicure; anything to rest our weary ears before diving back into the action.
Musically speaking, France, Spain, and all those other high-profile European festivals have nothing on Tennessee's answer to Lollapalooza. The Bonnaroo Music and Arts Festival (June 14 – 17: info) boasts four days of top-notch acts including Wilco, The Flaming Lips, DJ Shadow, The Decemberists, and The White Stripes, to name drop a few. The plan is to jet back to Manchester, TN in time to catch the Ornette Coleman Quartet on the final day of the festivities. Anyone else in the immediate vicinity should pack-up the ol' RV and get your parking pass online pronto. See y'all there.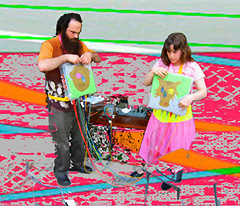 LoVid
Let's finish off the month in New York City, where alternative performance spaces located downtown seem to be a dying breed. However, the once-homeless Roulette seems to have scored a long-term shack-up with SoHo's new media non-profit Location One. After 28 years of presenting experimental music, it great to see such a tradition survive in the face of hyper-gentrification. Personally, I'm looking forward to some day-glow colored sensory overload when the venue hosts LoVid (June 23: info) . Also in the vicinity is the Vision Festival (June 19 – 24: info), showcasing avant-jazz in the Lower East Side.
If all of this concretizing is beginning to seem a little overwhelming, I can offer you an alternative to all the jet-setting. Here's a few chill-pills, the first one comes in the form of a Deep Listening Convergence. This on-line project involving over 45 artist began back in January and it all comes to a non-virtual conclusion in New York's appropriately serene Hudson Valley with a series of evening concerts (June 8 –10: info). If you're hunting for similar gentle ear massages, checkout Zach Layton's electro-drone set at Roulette (June 22: info). And finally for some even deeper metaphysical vibrations there's Hearts of Space alum Steve Roach performing inside San Francisco's ethereal Grace Cathedral (June 29: info). When Roach's atmospheric drones meet projection artist Lynn Augstein's grand-scale light installation, we have the makings of something sure to be, like, totally cosmic dude.
Did I leave anything out? Of course I did! If you want your event, festival, sound installation, time-based performance, or whatever-you-call-it considered for future incarnations of NewMusicBoxOffice, drop me a line and tell me about the goings-on in your neck of the woods. See you next month for more summertime concert hopping.