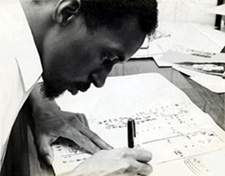 Julius Eastman
Spring has sprung, and warmer weather is on its way…eventually. As mercury levels rise, so does the urge to leave the toasty comfort of home—destination: concert hall. The get-your-tickets-now-before-it's-too-late gig of the month goes to the David Grubbs curated festival Nights Errrant, which takes place at The Kitchen (April 11 – 12 info, tickets). The first evening features Ne(x)tworks and Joseph Kubera performing music by Lois V Vierk and Julius Eastman—two fantastic composers we rarely get the opportunity to hear live.
Pack up your laptop and head for Salt Lake City in order to hear the latest electronic music. The Society for Electro-Acoustic Music in the United States holds its national conference at the University of Utah this year (April 3 – 5 info). Among the 100 or so electroacoustic compositions, videos, and papers that will be presented at the conference, there will be a special focus on music by the pioneering composer Vladimir Ussachevsky, who was in residence at the university from 1970 until his death in 1990. As per usual, the winners of the ASCAP/SEAMUS Student Commission Competition will be announced at the festival.
The city of Cincinnati will also see a surge in new music activity this month with the MusicNOW Festival (April 2 – 5 info). The all-inclusive lineup includes the Bang on a Can All-Stars, as well as experimental multi-instrumentalist composer Richard Reed Parry, Bill Frisell, and festival curator Bryce Dessner, who plays with Clogs and The National. Also on the docket are Brooklyn indie-rockers the Dirty Projectors; Grizzly Bear closes the festival with a lo-fi folk-tinged bang.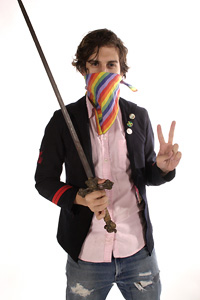 Jona Bechtolt (a.k.a. YATCH)
Speaking of Brooklyn indie rockers, it seems everyone these days wants a piece of Vampire Weekend—the slightly nerdy rockers who sing about fussy things like punctuation. Well, it looks like you might be able to catch them live in Milwaukee (April 5 info), one of the only gigs not sold-out yet on the band's perpetual touring schedule. Best part: YATCH is the opening act! Whether you think of Jona Bechtolt's spastic stage presence as interpretive dance or total bollocks, there's no way anybody is going to forget about those oxford commas for some time to come.
It's not just the indie rockers causing a stir. Here's an orchestral programming ploy: play the creation vs. evolution card (April 11 and 13 info). Actually, no monkeys involved here. One World Symphony pairs highlights from Haydn's The Creation with Stravinsky's The Rite of Spring, then comes the world premiere of Keith Bailey's Revelation. But is it evolutionary programming or just an intelligently designed hook created by the marketing department?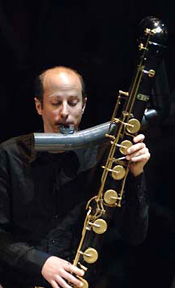 Ned McGowan with his contrabass flute
Continuing with the border-line controversy, the city of New York is busy giving away subway-themed condoms to anyone who'll take them, but the American Composers Orchestra isn't the least bit concerned about protection in any way, shape, or form. For their inaugural Playing it UNsafe program, which they describe as a multi-day "laboratory" consisting of workshops and rehearsals culminating with two performances, ACO has asked composers Anna Clyne, Jonathan Dawe, Charles Mason, Ned McGowan, and Dan Trueman to boldly take the orchestra where no orchestra has gone before (April 23 – 27 info). All of this translates into hoards of laptops, live signal processing, video projection, spatialization, theremin, hip-hop—wait, I think I've heard this sort of thing before. But hold up, here's a new one: a contrabass flute soloist with orchestra.
Can't get enough sax? Head to South Carolina for the North American Saxophone Association's 2008 Biennial Conference (April 16 – 19 info). Along with competition categories for classical, jazz, and quartets, there are concerts and master classes—enough to fill four solid days and evenings.
Folks in Vermont should be preparing now, because they're getting a visit from one of the best party bands in the known universe (April 13 info). Take a few disco naps, re-stock the minibar, and get ready to call in sick to work on Monday because Sxip Shirey and his Luminescent Orchestrii's brand of Baltic gypsy folk translates into pure fun. Whether or not you partake in the slivovitz is up to you. Unfortunately, Vermont is merely a drive-thru state for the month-long International Noise Conference Tour, which hits 28 cities in all corners of the country and in between. The Philadelphia stop on the tour is already organized enough to sport a MySpace page (April 27 info). The rules for each gig are the same and should yield interesting results: each band's set is fifteen minutes or less; no lap tops; no mixers; no droning. Got that!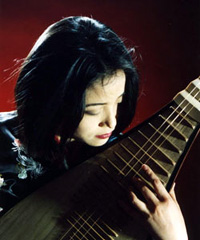 Wu Man
On the West Coast, percussionist Evelyn Glennie teams up with guitar guru Fred Frith for some improvisation presented by Stanford Lively Arts (April 23 info). Down in the heart of So-Cal suburbia, Cerritos, a town known for its conglomerate of car dealerships, shopping malls, and industrial parks, plays host to some serious pipa picking as Wu Man performs Ancient Dreams, a collaboration with composer Chen Yi and video artists Catherine Owens—who also happens to be the director of the recent film U2 3D (April 12 info). Hmm, I wonder if someday soon we'll see Bono lending his pipes to crazy multimedia new music projects? One can dream.
In New York, there are some festivals with hard to resist gravitational pulls. First up, MATA celebrates 10 years of commissioning young composers and presenting some of the most experimental work the curators can dig up (March 31 – April 4 info). This year Diapason Gallery offers up some of their gear for various 12-channel sound installations and communal listening inside the Brooklyn Lyceum's Café Room. Also, Colin Jacobsen and Carla Kihlstedt pickup their fiddles to perform a new Double Violin Concerto by MATA's former artistic director Lisa Bielawa, with the Boston Modern Orchestra Project. And if you're not tired after five nights of MATA fun, a new festival on the block looks very promising. Introducing, the HiFi New Music Festival (April 5 – 19 info). The line includes all the younger upstarts of the local scene performing in venues ranging from the Hungarian Cultural Center and Chelsea Art Museum to more under-the-radar spaces like The Tank and Monkey Town.
If you plan to be south of the border in April, be sure to checkout a festival in Mexico City called Radar (April 16 – 26 info). Highlights include a performance of Christian Marclay's Screenplay by Elliott Sharp, Zeena Parkins, and Ikue Mori, as well as sets by Anthony Braxton's Diamond Curtain Wall Trio, Wolf Eyes, Kalashnikov, and other noisemakers. Back in New York, art fair mania ends just as April ends, but there's still a little bit of time left to see, rather than hear, the work of famed Sonic Youth member Kim Gordon at Kerry Schuss in TriBeCa (through April 9 info). See you in May.