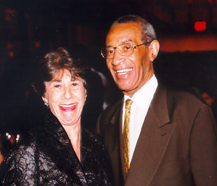 Lorraine Gordon and Max Roach.
Photo by Julie Skarratt.
Stand Up and Cheer For Jazz
This month, the stars came out to join Jazz at Lincoln Center in a little fund raising (to the tune of over $1.1 million) and in honoring some of the greats in the business at the 7th Annual Awards Gala & Benefit Concert held at Lincoln Center. The event benefits the hundreds of educational events, performances, and broadcasts J@LC produces each year.
A portion of the evening was devoted to bestowing accolades on two of the city's jazz institutions. The J@LC award for Artistic Excellence was presented to legendary jazz drummer Max Roach (by comedian/philanthropist Bill Cosby) and the Award for Lifetime Achievement was presented to the historic jazz club The Village Vanguard. Owner Lorraine Gordon accepted the award on behalf of the Village Vanguard from J@LC Artistic Director Wynton Marsalis.
CBS newsman Ed Bradley hosted the evening's proceedings, which also included remarks from U.S. Senator Charles Schumer of New York and a musical review featuring the talents of Woody Allen and His New Orleans Jazz Band, Denyce Graves, Patti LuPone, Paul Simon, and of course, Wynton Marsalis and the Lincoln Center Jazz Orchestra. The artists offered renditions of American classics about the Big Apple such as "Take the 'A' Train," "Autumn in New York," and the Rodgers and Hart classic "Manhattan" which reportedly left the audience cheering.
Encore! Encore!
Paul Sperry, that champion of American music, has edited a volume of American Encores for solo voice and piano (published by Oxford University Press-USA). The collection of seventeen encores runs the gamut from Paul Bowles's "Baby, Baby" to Maury Yeston's "I Don't Wanna Rock and Roll" and is prefaced with a short essay with suggestions for the performance of each work. Whether the audience is in the mood for a lovely lullaby or something in a waltz, Sperry has put together a collection that offers myriad ways to close an evening. And for the truly daring, there's Dudley Buck's "The Capture of Bacchus," a work so outrageous, "my wife didn't think I would ever dare to sing it in public" Sperry admits.