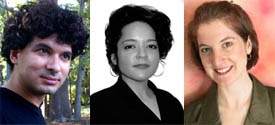 (L to R) Composers Keeril Makan, Gabriela Lena Frank, and Lisa Bielawa
Composers Selected for first Upshaw/Harbison Workshop at Carnegie Hall
Lisa Bielawa, Gabriela Lena Frank, Keeril Makan, and James Matheson are the four composers selected to participate in the Weill Music Institute at Carnegie Hall's first Dawn Upshaw/John Harbison Workshop for Young Singers and Composers (part of the Perspectives: Dawn Upshaw series). Spanning two seasons, this professional development workshop will feature soprano Dawn Upshaw and composer John Harbison working in tandem to guide four pairs of singers and composers through the compositional process, from conception to completion of a work. Special emphasis will be placed on the challenges of writing for the voice and text setting.
"The relationship between composer and performer is a singular and gratifying one," Upshaw commented when making the participant announcement. "I hope that this seminar will give young composers, young singers, and even audience members an opportunity to better understand and appreciate the inner workings and possibilities of collaboration in creating new pieces."
Workshop Participants:
Natalie Janssen, Soprano
Lisa Bielawa, Composer
Robert Gardner, Baritone
Gabriela Lena Frank, Composer
Laurie Rubin, Mezzo-Soprano
Keeril Makan, Composer
Leena Chopra, Soprano
James Matheson, Composer
Four Young Composers Land NYYS First Music 21 Commissions
The New York Youth Symphony has announced the four composers commissioned under the auspices of the FIRST MUSIC program. Since 1984, the NYYS annually commissions three orchestral ($1,500 each) and one chamber work ($1,000) from young American composers and premiered during the orchestra's Carnegie Hall season.
The orchestra also covers production costs and provides a travel stipend.
The 2004-05 FIRST MUSIC 21 composers are:
Orchestral Commission:
Joshua Penman (premiere: 12-05-04)
age at premiere: 25
originally from Brookline, Massachusetts
B.A., Music and Mathematics, 2001, Yale University; M.M. candidate, 2004, University of Michigan
Tanglewood Music Festival, Fellow, summer 2004; Nouvel Ensemble Moderne, Forum commission, 2002, American Composers Orchestra, Whitaker New Music Reading Sessions, 2001
Studies with Louis Andriessen, Michael Daugherty, Betsy Jolas, Bright Sheng
Thomas Osborne (premiere: 03-06-05)
age at premiere: 26
originally from Greenfield, Indiana
B.M., 2000, Indiana University School of Music; M.M., 2002, Rice University Shepherd School of Music DMA candidate, 2005
Southern California Thornton School of Music Commission, T'ang Quartet, premiere, Tanglewood Institute, Commission, Jason Hardink, keyboardist, Utah Symphony Orchestra
Studies with Edward Applebaum, Donald Crockett, Don Freund, Stephen Hartke
Judd Greenstein (premiere: 05-29-05)
age at premiere: 25
originally from New York, New York
B.A., 2001, Williams College; M.M. candidate, 2004, Yale School of Music
Charles Ives Scholarship, Academy of Arts and Letters, 2004 Tanglewood Music Center, fellowship, summer 2004 Bang on a Can Summer Institute of Music, 2002
Studies with Martin Bresnick, David Kechley, Aaron Jay Kernis, Ezra Laderman
Chamber Music Commission (for clarinet, piano, and cello):
Devin Keith Arrington (premiere: 04-25-05)
age at premiere: 27
originally from Westport, Connecticut
B.A., 2001, Middlebury College; M.A. candidate, 2004, Carnegie Mellon University
CFAMC 2004 Scholarship winner, First Prize in Harry Archer String Quartet Competition, premiere by Cuarteto Latinoamericano, 2003 Grant from the Vermont Arts Council and the NEA
Studies with Leonardo Balada, Su-Lian Tan
FM21 Advisory Committee: John Corigliano, Chair; Samuel Adler, Michael Gordon, David del Tredici, Jennifer Higdon, Stewart Wallace
American Erin Gee Among Six IMPULS Commissions
IMPULS, which offers study courses for musicians and composers in Graz, Austria, in co-operation with the University of Music and Pictorial Arts, has commissioned work from six composers, including American Erin Gee, as part of their International Composers' Competition.
The winners will write a new work for Klangforum Wien, a 24-member ensemble founded in 1985 by Beat Furrer for the performance of contemporary music. The commissioned pieces will be workshopped next February with the intention of creating an "intensified dialogue between composers and the musicians… and a greater understanding of the processes of composition and their current representation in contemporary music." At the end of the workshop, the pieces will have their first public performances. From the live recording of this concert, a documentary CD will be produced.
The commissions are * 1000 each (a fee to be considered compensation for all uses of the piece in association with the competition, including two live performances, a live recording, and the documentary). A portion of the travel and living expenses are also covered by the commissioning organization.
The jury—which included Annette Bik, Pierluigi Billone, Beat Furrer, Gunde Jäch and Florian Müller—selected the winners from a total of more than 260 submissions from 50 countries.
Gee is currently studying in Graz with Beat Furrer. Her music has mainly been written for small chamber groups, but she has also used electronacoustics and composed for theater. With the support of the Pelzer Composition Award, she participated in the Internationale Ferienkurse für Neue Musik in Darmstadt, Germany (2000) where she attended the premiere of The left wing of inhale no. 37, on commission from duo Contour. Gee previously studied at the University of Iowa.