Second Roche Commission to Chen Yi
The second Roche Commission for a musical composition has been awarded to the Chinese-American composer Chen Yi. The work is scheduled for premiere on August 26, 2005, at the Lucerne Culture and Congress Center during the Lucerne Summer Festival. A U.S. premiere will follow at Carnegie Hall is planned for October 17, 2005.
The commission, established in 2003 by Roche, a research-intensive healthcare company based in Switzerland, follows the tradition of commitment to contemporary music by Dr. Paul Sacher (1906-1999), a conductor and former CEO and majority shareholder of Roche. Charged to commission one new work a year, an "internationally renowned composer of contemporary music" is selected by Roche based on recommendations by the artistic directors of the Lucerne Festival, Carnegie Hall and The Cleveland Orchestra. The first Roche Commission was awarded last year to the British composer Sir Harrison Birtwistle.
In announcing Chen Yi's selection, Roche Chairman and CEO Franz B. Humer praised the composer: "Chen Yi's music draws together East and West in a unique way. The decision to choose her for this award underscores the spirit of Roche Commissions—we want this cultural project to demonstrate the close affinities between innovation in the arts and innovation in medical research and at the same time build bridges between different cultures."
***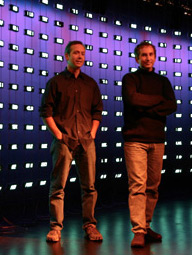 Mark Hansen and Ben Rubin at On the Boards, Seattle
Photo by Rocky Salskov
Ars Electronica's 2004 Festival, TIMESHIFT—The World in Twenty-Five Years, is just wrapping up in Linz after a six-day run celebrating the intersection of art, technology, and society, not to mention the festival's own 25th birthday.
As part of the festivities, the 2004 Prix Ars Electronica (billed as an international competition for the CyberArts) winners were announced and many of the winning projects were showcased at the O.K Center for Contemporary Art.
Among the winners was the digital media instillation Listening Post by Americans Mark Hansen and Ben Rubin in the Interactive Art category.
In addition, several American artists were recognized with Honorable Mentions. In Messa di Voce by Golan Levin, Zachary Lieberman, Joan La Barbara, and Jaap Blonk (NL), custom-developed software transforms vocal nuances into highly expressive real-time graphics that can be manipulated further. In Loops, Marc Downie, Paul Kaiser, and Shelley Eshkar have created a portrait of choreographer Merce Cunningham. Music Intelligences analyzes Cunningham's voice and uses the result to control a piece of John Cage's piano music. Alvin Curran and Domenico Sciajno (Associazione Rossbin) where honored for Our Ur, John Duncan (Allquestions) for The Keening Towers, Tom Hamilton for London Fix (Muse-Eek recordings), and Zeena Parkins and Ikue Mori (Mego records) for Phantom Orchard.
***
The New York Foundation for the Arts website has published a brief article by composer Phil Kline in which he discusses his motivation to create politically responsive art. Specifically, he covers the composition of his song cycle, Zippo Songs, and speaks to the current political and artistic climate. "People frequently ask about making art in the post-9/11 world," he writes, "and I always say the impulse is the same. The pain and anxiety was in the air before that particular Tuesday, and was already in the art. But the commitment to get it done, to communicate, is greater now. There is a sense of urgency, of time running out, and the upcoming election only heightens that."
***
The American Music Research Center at the University of Colorado, Boulder will host a three-day symposium "Nadia Boulanger and American Music: A Memorial Symposium" from October 7 to 9, 2004. Boulanger's life and influence, her contribution to musical pedagogy, and the work of her American students will be presented in a variety of formats.