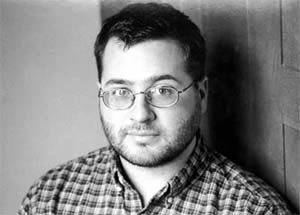 Brian P. Herrington
Texas native Brian P. Herrington has received the Royal Philharmonic Society Composition Prize. The honor, which includes a commission and a cash award, is given annually to composers under the age of 29 who are studying, or have studied, at any conservatory or university in the UK.
This year two commissions were awarded: a £5,000 prize to compose a new work for the London Sinfonietta awarded to Herrington, and a new £3,000 commission for a work for the Cheltenham Festival which was awarded to UK composer Phillip Neil Martin.
The awards panel, chaired by Simon Bainbridge, included composer Deirdre Gribbin and Bruce Nockles of the London Sinfonietta.
After completing studies at Lamar University and the University of Louisville here in the States, Herrington entered the PhD program at the Royal Academy of Music in 2001 where he currently studies with Simon Bainbridge. He lives in London with his wife Mary and their two children.
Herrington's commission will be premiered in February at Queen Elizabeth Hall in London. He is currently at work on the piece, titled Symphonia for sixteen players. "Though it is in four movements and contains processes and properties of the symphony," Herrington explains, "I actually use the term 'symphonia' in the sense of Hildegard von Bingen's Symphonia harmoniae caelestium revelationum: a reflection of the harmonies of the physical and metaphysical worlds. I rearrange the Sinfonietta into groups of solo consorts to explore the sound worlds of what I call Southern rural vernacular music, which includes such idioms as bluegrass and Pentecostal gospel music."
Raised in a small town in Texas and within the confines of a Pentecostal church, Herrington says music was an integral part of his family and religious life. Though he has since adopted a more "orthodox Christianity," his contact with church hymns and with Southern folk music was a powerful formative experience.
"As with all of my recent music, the vernacular sources are evoked vividly in the instrumentation, but very subtly in the actual pitch material," Herrington says. The result is not Americana. He is quick to point out that most of his techniques are actually derived from post-WWII avant-garde music. Drawing a literary comparison, he illustrates: "I admire William Faulkner who wrote about a very provincial time and place while employing techniques that were far from provincial. The vernacular music is in my bloodstream, so my music naturally reflects the sources without resorting to pastiche."
Herrington is at work on a number of commissions while finishing up his PhD (which includes a portfolio of compositions and a dissertation on some new methods of folk music analysis and the absorption of folk music). He is looking to return to the States when he completes that work in 2004.
Meanwhile, living abroad has given Herrington a unique perspective on his role as an American composer that he'll carry back home. He explains that the realizations have come "not only because I'm living abroad, but because being American has become a more complicated and introspective issue since 9/11 and the war in Iraq. I feel a great burden for what my country has inflicted upon the world." Herrington sees the potential of that political shift to have an artistic effect. "As of yet, my music has not been political. But I wonder how long that will last."
**Additional reporting by Daniel Felsenfeld