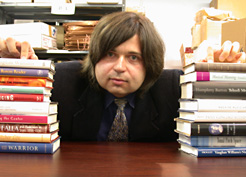 Frank J. Oteri
Photo by Molly Sheridan
I like to describe myself as an admirer of the great indoors. Whether I'm working on a music article or a piece of my own music, I am at my most inspired either at home, at my office here at the American Music Center, or in a musty used record store or bookshop. And for some reason, whenever I get down to seriously work on something, it doesn't really start happening until I find myself surrounded by a hopeless pile of clutter. This clutter I create around me to work in, whether at my apartment or at the office, gives me a feeling of home, which is why the whole notion of going off somewhere else to work on a creative project, while for many seems ideal, seems anathema to me.
When I was an undergrad, I chose to commute from home rather than stay in a dorm room that did not have a piano and, knowing me, if I had lived in a dorm room, I probably never would have gotten any work done anyway. This being said, I have to admit that I find the whole notion of artist colonies somewhat perplexing. Yet so many important American composers have found inspiration in being in "a room not of one's own."
This legacy of inspiration is what has inspired NewMusicBox's examination of the "artist colony" phenomenon. Before she left us to embark on her own personal artist residency in Nepal studying the esraj, among other things, our former associate editor Molly Sheridan spoke with Cheryl Young, executive director of the MacDowell Colony, the nation's oldest continuously-operated artist colony, established by one of our nation's important early composers and his wife. Daniel Felsenfeld, no stranger to NewMusicBox and also no stranger to the artist colony experience, contributes an overview of artist colonies in the United States and offers pointers on how you can get accepted to one. A group of six composers offer their own personal accounts of artist colony experiences, both positive and negative, and posit ideas about what can make or break a residency experience. Phillip Bimstein, a composer and political figure based in Utah, wonders whether composers create better in isolation or within a larger life experience. What do you think?
According to Cheryl Young, obviously a firm believer in the value of artist colonies, the experience is probably not for everybody. I do sometimes wonder what my thought process would be like if I was not constantly bombarded with a sea of information on my desk, on the phone, and on the computer screen. But, then again, I've been writing and composing more now that I no longer live in midtown Manhattan, where information overload was the menu 24 hours a day, 365 days a year…
So, when's the next application cycle?