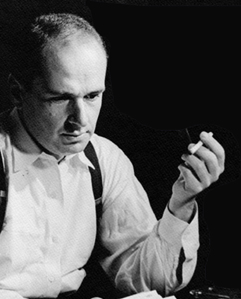 Alan Shulman
American composer, cellist, and arranger Alan Shulman died Wednesday, July 10, 2002, of complications from a stroke at a nursing home in Hudson, New York. He was 87.
Born in Baltimore, June 4, 1915, Shulman's early studies were with Bart Wirtz (cello) and Louis Cheslock (harmony) at the Peabody Conservatory. In 1928, the family moved to Brooklyn where Shulman played in the National Orchestral Association. He received a New York Philharmonic Scholarship to study cello with Joseph Emonts and harmony with Winthrop Sargent, and went on to attend The Juilliard School where he was a fellowship student, studying cello with Felix Salmond and composition with Bernard Wagenaar.
In 1938, with his brother Sylvan, a violinist, Shulman founded the Stuyvesant String Quartet, which during the 1940s and '50s was noted for its performances and recordings of the contemporary quartets of Bloch, Prokofiev, Shostakovich, Malipiero, Hindemith, and Kreisler, among others. They played the American premiere of the Shostakovich Piano Quintet and recorded it for Columbia Records.
Alan Shulman was a charter member of the NBC Symphony Orchestra under Arturo Toscanini in 1937-42, serving in the U.S. Maritime Service 1942-45, and rejoining NBC from 1948-54. While in the service, he taught orchestration to Nelson Riddle.During the 1930s and '40s he was also active as an arranger for Leo Reisman, Andre Kostelanetz, Arthur Fiedler, Wilfred Pelletier's Metropolitan Opera Auditions of the Air, and soprano Risë Stevens for whom he arranged five crossover albums for Columbia Records 1945-47.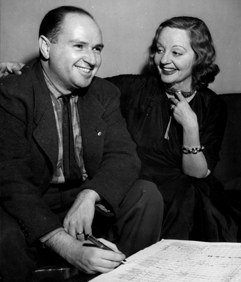 Shulman with Bankhead, 1952
Shulman's first successful composition was Theme and Variations for Viola and Orchestra, which received its premiere over the NBC airwaves in 1941 with Emanuel Vardi as soloist.Chicago Symphony principal violist Milton Preves played the work often, and it is in the repertoire of most American viola soloists. His Suite on American Folk Songs was premiered at Carnegie Hall in 1944 by violinist Eudice Shapiro with pianist Vivian Rivkin. Jascha Heifetz performed and recorded "Cod Liver 'Ile" from the suite. His Pastorale and Dance was first played by his brother Sylvan Shulman on ABC radio in 1944 and was performed by Oscar Shumsky with the Baltimore Symphony in 1947. Shulman joined ASCAP in 1948.
Shulman wrote music for children's records (James Thurber's Many Moons), for radio, and for motion pictures, including the RKO feature The Tattooed Stranger.His Rendezvous, written for Benny Goodman, was recorded for Columbia by Artie Shaw with the New Music Quartet in 1949. Leonard Rose premiered Shulman's Concerto for Violoncello and Orchestra with the New York Philharmonic under Dimitri Mitropoulos in 1950.Guido Cantelli conducted the premiere of Shulman's A Laurentian Overture with the Philharmonic at Carnegie Hall in 1952. [An extensive collection of audio samples of the music of Alan Shulman is archived on his Web site.]
In 1946, Shulman married pianist Sophie Pratt Bostelmann (1916-1982), with whom he had four children.
Shulman was a founder of the Symphony of the Air (1954) and the Violoncello Society (1956). In the 1950s, Shulman wrote popular songs with entertainer Steve Allen and arranged for Skitch Henderson, Raoul Poliakin, and Felix Slatkin. During the 1960s and '70s, Shulman was busy in recording and television studios, and composed teaching material. He was cellist of the Philharmonia Trio 1962-69, and cellist of the Haydn Quartet 1972-82. Shulman taught cello at Sarah Lawrence College, Juilliard, SUNY-Purchase, Johnson State College (VT), and the University of Maine. With his health in decline, he retired in 1987.
Shulman was made a Chevalier du Violoncelle by the Eva Janzer Memorial 'Cello Center at Indiana University in 1997.
Alan Shulman is survived by his sons Jay Shulman, a cellist, and Marc Shulman, a guitarist; and daughters Lisa Shulman and Laurie Shulman, a musicologist who has contributed a Views column and a HyperHistory to NewMusicBox. At the time of Alan Shulman's death, Bridge Records was in the final production stages of a CD retrospective of his music, which is scheduled for release in September 2002.