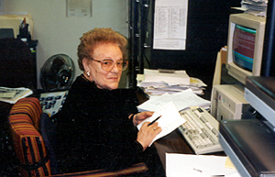 Goldstein at work, mid-'90s
Sylvia Goldstein, a board member of the American Music Center and a former corporate vice president of Boosey & Hawkes, died at her home on Monday afternoon, January 21, 2002, after a long battle with cancer. She was 82.
In early January, the AMC Board of Directors awarded Goldstein a 2002 Letter of Distinction, the Center's highest honor. The award was presented to her "in recognition of her 50-plus years of remarkable service in support of composers and the field of new music."
Goldstein's distinguished career at Boosey & Hawkes included the support and nurturing of generations of composers from Aaron Copland to Steve Reich. She also served as a mentor to many executives in the field, including James Kendrick (intellectual property attorney), Linda Golding (former president of Boosey & Hawkes, Inc.), and the late David Huntley (former director of promotion, Boosey & Hawkes, Inc.).
Carolyn Kalett, director of business affairs at Boosey & Hawkes, stresses what a resource Goldstein was to those working in the field. "There is a generation of women, and probably men, in the [music] industry who were succored by Sylvia, particularly in the nuances of the U.S. copyright status of Russian works. She would spend a lot of time explaining the details to us. On our second call to her she would again explain with great patience. On the third call she would tell us to consult our notes but would, of course, ultimately answer our questions. She has been such a wonderful resource for people to grow in the industry."
Author and Boosey & Hawkes composer Ned Rorem thought so much of her he devoted a chapter of his 1996 book Other Entertainment to her. "Arguably," Rorem said recently, "from a composer's viewpoint, she is one of the most important people of the 20th century in that she knew music from the outside in rather than the inside out. All of those important things such as contracts, copyrights, licensing, etc., she taught me, and, in addition, she taught me how to wash dishes and feed the cat. I think Sylvia is a very important woman. If she were to write a book, she would tell us things about Bartók and Stravinsky that we never knew."
When news of the award reached Steve Reich, he recalled the impact Goldstein had on his own work as well as on that of his colleagues. "For those of us fortunate enough to know her, Sylvia Goldstein is, among other things, our bridge to Stravinsky, Bartók, and Copland. Just as she helped these giants of an earlier era, so she helped many of us. I was fortunate to have worked with her for many years at Boosey & Hawkes, and, let there be no doubt, Sylvia Goldstein knew just about everything there was to know about publishing music. Her life is composers. She gives all her time and energy to helping us, and it is only fitting that we honor her now. Thank you, Sylvia, for everything. We love you."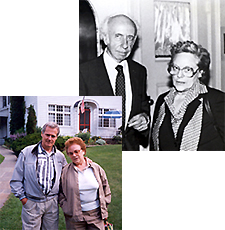 A friend to composers such as Morton Gould and Ned Rorem
Surprisingly, when she discussed her career in music, Goldstein attributed it to pure "accident." Born in New York City on February 21, 1919, she received an undergraduate degree in economics from Long Island University in 1941. Through happenstance she began working for Ralph Hawkes of Boosey & Hawkes shortly after graduating. Recognizing that her potential reached far beyond her secretarial responsibilities, he encouraged her to attend law school, even helping her pay for the tuition, and she graduated from Brooklyn Law School in 1944. When she retired from Boosey & Hawkes in 1993, she held the title of corporate vice president and continued to work for the company on a part-time basis for several years more. She also maintained an active role in music organizations, including her years of service on the board of directors of the American Music Center.
AMC award recipients are selected for their substantial contributions to advancing the field of contemporary American music in the United States and abroad. Sylvia Goldstein joins a celebrated group of fellow composers, musicians, and organizations who, beginning in 1965, have also received this honor including Aaron Copland, Virgil Thomson, Elliott Carter, Yo-Yo Ma, Ornette Coleman, Leonard Bernstein, John Cage, Dizzy Gillespie, George Balanchine, Milton Babbitt, Merce Cunningham, Philip Glass, The Kronos Quartet, Bang On A Can, the American Composers Orchestra, and many others.
Sylvia Goldstein is survived by sixteen nieces and nephews. Her husband, Joseph Goldstein, died in 1982.
A private memorial service for Sylvia Goldstein took place in Long Island, New York, on Wednesday, January 23, 2002.