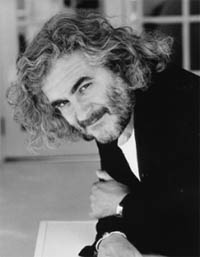 Michael Kamen
Grammy-winning composer Michael Kamen died Tuesday from a heart attack at his home in London, according to his Web site. He was 55.
Born in New York City on April 15, 1948, Kamen trained at the Juilliard School and formed the rock-classical fusion band New York Rock and Roll Ensemble in the late 1960s.
Kamen is likely best known for his collaborations with bands such as Pink Floyd and Metallica, and for scores to films such as the Lethal Weapon and Die Hard series, Mr. Holland's Opus, and Robin Hood: Prince of Thieves.
In 2000, the National Symphony Orchestra premiered his The New Moon in the Old Moon's Arms. In addition to the more than 80 films he worked on, Kamen wrote a symphonic arrangement of songs by Bob Dylan, an overture composed for 200 Buddhist monks, and two concertos for celebrity musicians: Concerto for Saxophone for David Sanborn and Concerto for Guitar for Eric Clapton. He also penned ten ballets for companies such as the Harkness, Louis Falco, Alvin Ailey, and Joffrey Ballet.
His work has been honored with two Oscar nominations, two Golden Globe Awards, four Grammys, and an Emmy.
He shared his 2001 Grammy win with Metallica for best rock instrumental performance, having conducted the San Francisco Symphony in the metal-rock band's song "The Call of Ktulu."
Funeral arrangements have not yet been announced. A condolence board has been set up on his Web site.