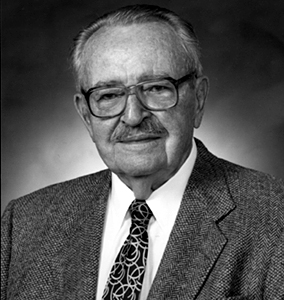 Normand Lockwood
Photo Courtesy the American Music Research Center, University of Colorado at Boulder
Normand Lockwood (1906-2002) died of pneumonia on Saturday, March 9th, ten days shy of his 96th birthday, at Porter Adventist Hospital in Denver. Although he had been in declining health for the past three years, he continued composing as a way of life until his final short illness. Lockwood joined the Sonneck Society (now The Society for American Music) at the time of its Boulder meeting in 1986. Although he was not able to attend subsequent annual meetings, he read the Bulletin and American Music regularly and showed an interest in the affairs of the Society.
A product of a musical household—his father was conductor of the University of Michigan's orchestra beginning in 1908 and his mother was an accomplished violinist—Lockwood eventually studied with Respighi in Rome (1924-5) and Boulanger in Fontainebleau (1925-7). Following a fellowship at the American Academy in Rome (1929-32), he held positions at Oberlin College (1932-43), Union Theological Seminary (1945-53), Trinity University (1953-5), the University of Hawaii, Manoa (1960-61), and the University of Denver (1961-74). In 1945, Stravinsky included him on a list of ten notable American composers. He received two successive Guggenheim Fellowships (1943-5), honorary doctorates from Berea College (1974) and the University of Denver (1979), and awards from the American Academy and Institute of Arts and Letters (1946, 1981) and the Colorado Council on the Arts and Humanities (1971), among others.
Of Lockwood's approximately 500 works, nearly half are choral; other genres include keyboard (piano and organ; solo, chamber, and with large ensemble), chamber (string quartets, solo sonatas), solo songs (including cycles), large ensemble (orchestra and symphonic winds), and opera. Lockwood use of timbre is especially refined; other areas of his expressive detailing often provide substantial challenges for performers of his music. The composer was an equally gifted melodist and creator of inspired settings for poetic texts in English.
Normand Lockwood is survived by his widow, Vona Swedell Lockwood. Contributions in the composer's honor may be made to the American Music Research Center, College of Music, Campus Box 301, University of Colorado at Boulder, CO 80309, where his archive is housed.
—Contributed with deepest respect for a life well-lived
Kay Norton (Ph.D., University of Colorado, Boulder) is a professor of music history at Arizona State University. She is the author of Normand Lockwood: His Life and Music, published by the Scarecrow Press.