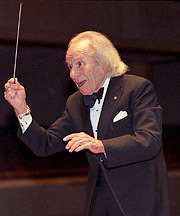 Frederick Fennell
Photo courtesy of the Dallas Wind Symphony
Famed band conductor Frederick Fennell died Tuesday at his home in Siesta Key, Florida. He was 90.
Founder of the Eastman Wind Ensemble in 1952, Fennell is generally recognized as the leader of the wind ensemble movement in the U.S. His conducting career placed him on the podium before a countless number of ensembles, including the Dallas Wind Symphony and the Tokyo Kosei Wind Orchestra in Japan. He also recorded extensively; 22 albums with the Eastman Wind Ensemble were released by Mercury Records in the 1950s alone.
Fennell is survived by his wife, Elizabeth, and a daughter, Cathy Fennell Martensen. There will be a small Memorial Service at a church in Siesta Key. No date or time has been set.