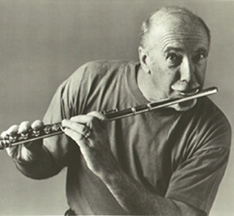 Herbie Mann
Herbie Mann, who redefined jazz by insisting that the flute was part of its sonic palette, died on Tuesday in his cabin just outside of Pecos, New Mexico. His death was the result of an eight-year battle with inoperable prostate cancer. Mann was both an instrumentalist and a composer, whose music blended jazz with R&B, soul, and a multiplicity of world musics from Africa, Asia, and the Middle East. He is survived by his wife, 4 children, his mother, and his sister.
Read Kenny Mathieson's obituary on Jazzhouse.org and post any memories in their Reader's Comments section.
For a more detailed chronicle of his life, read Peter Keepnews's obituary from The New York Times.