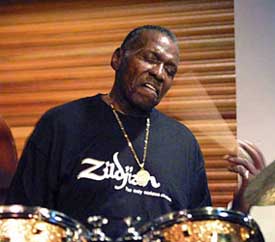 Elvin Jones, 1927-2004
Photo courtesy Carolyn McClair Public Relations
Elvin Jones, the innovative post-bebop drummer, died of heart failure on Tuesday, May 18, 2004, in New York. He was 76. Jones is probably best known for his contributions to the John Coltrane Quartet in the 1960s.
Jones continued to perform until a few weeks ago. Steven Bensusan, President of the Blue Note, said yesterday, "Elvin was a giant and we felt privileged to have him. May he rest easy."
Read the New York Times obituary by Peter Keepnews published this morning here.