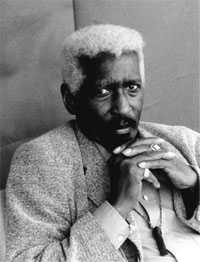 Mal Waldron
News came from across the Atlantic that jazz pianist and composer Mal Waldron died on December 2, 2002, in a hospital in Brussels. Waldron had been diagnosed with cancer in September and died of related complications.
Writing from Belgium, Hugo de Craen noted that despite Waldron's illness, which had worsened, "Mal remained optimistic and made a lot of plans for the future. His death yesterday still came unexpectedly. We will miss him, his music, and his jokes."
Though Waldron never became the kind of household name that his contemporaries John Coltrane and Billie Holiday did, his contribution to the jazz piano world is legendary. Born August 16, 1925 in New York City, he graduated from Queens College where he studied piano and composition. He performed at various clubs in New York and made his first recordings in 1950 with Ike Quebec. He formed his own quintet in 1956, but was also well-known for his work with greats such as Billie Holiday, Abbey Lincoln, Charles Mingus, Eric Dolphy, and Della Reese. His composition "Soul Eyes" was made famous by the John Coltrane Quartet (1962).
After health problems took him out of the scene in the early '60s, he resurfaced in Europe in 1965 where he made his home until his death. He recorded for Impulse, ECM, Victor, and a number of smaller labels over the next few decades, including collaborations with Steve Lacy, Archie Shepp, Jim Pepper, Charlie Rouse, and Woody Shaw.
A funeral service for Waldron open to all friends, colleagues, and fans was held Saturday, December 7 at 11:15 AM at Crematorium d'Uccle in Brussels.
Read an extensive career review by Kenny Mathieson at http://www.jazzhouse.org/gone/index.php3?view=1038926978