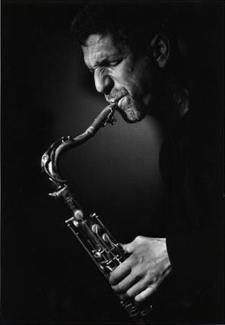 Bob Berg
Photo by Sarkis Boyadjian
The music community mourns the loss of saxophonist Bob Berg who died in an automobile accident on December 5, 2002 on Long Island, NY. Due to poor driving conditions caused by a snowstorm, the car he was driving was struck by a cement truck and he died upon impact. He is survived by his wife, their two children, his mother, and his brother.
To learn more about his life, read a review of his career by Kenny Mathieson at http://www.jazzhouse.org/gone/index.php3?view=1039185731 or an in-depth commentary on his significance within jazz by John Fordham at http://www.guardian.co.uk/arts/news/story/0,11711,856984,00.html.