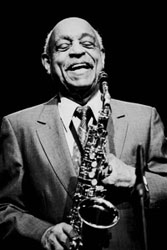 Benny Carter
Photo by Jos L. Knaepen
Benny Carter, one of the founding fathers of jazz saxophone and a revolutionary arranger, composer, and bandleader, died on the morning of July 12 at a hospital in Los Angeles. Carter had been suffering from bronchitis. He was 95 years old.
"Everybody ought to listen to Benny," Miles Davis once said of Carter. "He's a whole musical education." And indeed Carter, whose career spanned 8 decades, not only bared witness to nearly the entire history of jazz but in many ways shaped it, redefining the role of the alto saxophone, prepping it for its role in swing-era jazz through his stellar ideas as a soloist and his innovations in arranging.
As a player, Carter participated in hundreds of recordings that earned him a Lifetime Achievement Award as well as two Grammys from the National Academy of Recording Arts and Sciences. The musicians that performed in his bands and on his recordings read like a "Who's Who" of jazz: Dizzy Gillespie, Kenny Clarke, Miles Davis, J.J. Johnson, Max Roach, Art Pepper, Teddy Wilson, Ben Webster, Fats Waller, Wynton Marsalis, Gene Krupa, Quincy Jones, Earl Hines, Fletcher Henderson, and Coleman Hawkins. Carter's generosity of spirit bridged generations and gave a push to the proliferation of styles that would characterize the development of jazz throughout the 20th century.
As an arranger, Carter solidified the big band sound particularly through his block-scoring of saxophone parts, which was to become an widely used practice in every big band that followed. He wrote arrangements for nearly every major singer of the time including Billie Holiday, Ella Fitzgerald, Sarah Vaughan, Lou Rawls, Ray Charles, Peggy Lee, Louis Armstrong, Pearl Bailey, Billy Eckstine, and Mel Torme.
And while a retrospective glance at Carter's career indicates that he is possessed a bit of the Midas Touch, his earliest musical experiences were humble. Born on August 8, 1907 in New York City, his earliest and only "formal" music training was piano lessons with his mother, a church organist and domestic worker. But under the spell of his cousin Cuban Bennett and the great Ellington brass man Bubber Miley (also a neighbor of Carter's), it was the trumpet that captured his attention most strongly. But when he failed to master the instrument after the first weekend, frustrated and impatient, he exchanged the instrument for a C-melody saxophone.
The music of Frankie Trumbauer provided early inspiration to the young Carter and by the age of 15, Carter, who was a primarily self-taught musician and had been expelled from school for punching a teacher, was already playing in Harlem clubs. For the next several years, after switching to alto, Carter was a sideman for bands all over New York, his regular stints interrupted a couple of times for trips to the Midwest to perform with the Wilberforce Collegians and to Pittsburgh to sit with Earl Hines. It was also during this time period that Carter began his self-training as an arranger.
In 1928, the legacy of Carter's work on recording began. Carter's first recording as a player was as a member of Charlie Johnson's Orchestra, which was based at Harlem's Small's Paradise. This year also marked the first recording of one of his songs, "Nobody Knows How Much I Love You," a collaboration with Fats Waller and lyricist Andy Razaf. Carter would go one to write hundreds of songs, including "When Lights Are Low," from 1936, and "Blues in My Heart" which both went on to become jazz and popular standards. His bossa nova, "Only Trust Your Heart," was immortalized by Stan Getz and Astrud Gilberto, and a recording by Ella Mae Morse of his "Cow Cow Boogie" became a war-time hit and helped to establish Capitol Records.
In 1931, Carter gave the trumpet a second try while he served as musical director of McKinney's Cotton Pickers in Detroit. Upon his return to New York the following year, with his reputation as an arranger and musical director gaining momentum, he set out to put together his own "musicians' band." But the economics of the time made for difficult sailing and the group collapsed in 1934.
Soon after the failure of his first orchestra, Carter took off for Europe, initially landing in Paris to play with Willie Lewis's orchestra and then ending up in London as an arranger for the BBC Dance Orchestra. His three-year stay in Europe allowed him to forge important relationships with European jazzmen and he was also the leader of the first international, interracial jazz band.
As war in Europe became eminent in 1938, Carter returned to his native New York and immediately founded another orchestra that was in residency at the Savoy Ballroom from 1939-1940. By 1942 he had reorganized the big band and they set off for California, where Carter would spend the rest of his life.
Soon after arriving in L.A., Carter's talents as an arranger and a composer were called upon for the 1943 film "Stormy Weather." At this point, he was in such demand to work on film and television productions that he was forced to give up full-time leadership of the big band in 1946. He did however continue to tour as a soloist with such all-star groups as Jazz at the Philharmonic.
It was in Hollywood that Carter would make his most concerted efforts to improve the status of black musicians in Los Angeles and in the US, helping to lift restrictions that impeded membership of black musicians in a Los Angeles musicians union and becoming one of the first black composers to receive credit for his film and television scores.
Music impresario Quincy Jones pointed out the importance of Carter's work to broadening perceptions about black musicians in Harrison Engle's 1989 film on the life of Carter, Benny Carter: Symphony in Riffs. "Benny opened the eyes of a lot of producers and studios, so that they could understand that you could go to blacks for other things outside of blues and barbecue. He's a total musician. He was the pioneer; he was the foundation."
The next couple of decades were consumed with his film work and arranging, although he did maintain an active recording schedule, working with Verve and Contemporary in the 1950s, and Impulse! in the 1960s.
Carter referred to the 1970s as his "education decade" and it was during this time that in addition to extensive tours throughout the world that he would focus more on the younger generations. His work in this field landed him honorary doctorates with 4 institutions: Princeton, Rutgers, Harvard, and the New England Conservatory.
After his 80th birthday in 1987, a time when most people begin to relax, Carter seemed to have newfound inspiration. This period was characterized by several extended compositions including Glasgow Suite, Central City Sketches, and Good Vibes. He also recorded 15 albums, wrote over 40 songs, and toured the world several times.
The '90s produced a slew of honors and awards for Carter including the Kennedy Center Honors in 1996, "Jazz Artist of the Year" in both the Down Beat and JazzTimes 1990 International Critics' polls, and the National Medal of Arts, a recognition from the National Endowment for the Arts, presented to Carter by President Clinton in 2000.
The mark that Carter has left on jazz is one of indescribable importance. Shaping the early development of the art form, Carter's ideas are so deeply imbued in jazz history, that they seem to fuse with the very essence of jazz. And even after his death, his contribution continues. The family has requested that instead of flowers, donations may be made to the Morroe Berger – Benny Carter Jazz Research Fund, Institute of Jazz Studies, Dana Library, Rutgers University, Newark, NJ 07102.