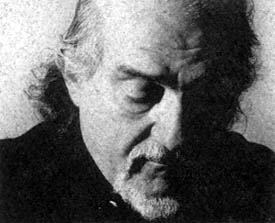 Meyer Kupferman
Meyer Kupferman, one of America's most prolific composers, as well as a highly respected music educator and performer, died on November 26, 2003, at Northern Dutchess Hospital near his home in Rhinebeck, New York. He was 77.
His career was marked by many triumphs that included an appearance at the White House during the Johnson Administration for a performance of his Jazz String Quartet; a first performance of his Violin Fantasy by Itzhak Perlman at the Metropolitan Museum of Art; Martha Graham's subsequent choreographing of this score in a dance entitled O Thou Desire (which was presented the next year on the company's European tour); frequent collaborations with choreographer Pearl Lang; and many film scores such as Black Like Me, Hallelujah the Hills, and Truman Capote's Trilogy.
Born in New York City on July 3, 1926, Kupferman was given a violin at the age of 5, music study he described as "so premature and uncomfortable that I have little memory of it." At the age of 10, almost as a joke or a dare while fooling around with his friends already in the school band, Kupferman began taking clarinet lessons. Music soon became an important part of his life and the idea of writing music grew more and more fascinating to him. Eventually he began teaching himself the piano, which provided a basis for his curiosity about composing and arranging music for his friends. During the Big Band era of the 1940s and '50s, he worked as a jazz clarinetist in clubs and bars in the Coney Island area of Brooklyn which also shaped his musical sensibilities.
Kupferman's music was influenced by his Eastern European parentage and by his early and continuous involvement with jazz. Although Kupferman was entirely self-taught in composition, he received his education in theory, chamber ensemble, and orchestral music at New York's High School of Music and Art. He also studied at Queens College. Kupferman's father encouraged his son in music and taught him many Eastern European, gypsy and Hebrew melodies. The flavor of these tunes not only stayed with Kupferman for the rest of his life, but influenced his compositional style from time to time.
In the late 1950s Kupferman embraced 12-tone compositional techniques. His Infinities cycle is undoubtedly the most extensive set of related 12-tone works, based entirely upon his trademark Infinities row.
The Infinities row, in Kupferman's hands, was highly malleable and suggestive, offering worlds of possibilities on its own, but also serving as a bridge to more familiar harmonic worlds–whole tone, octotonic, and diatonic modes. This led, in the late '60s and early '70s, to groundbreaking work in integrating musical means that had been and still are considered disparate. This culminated in what Kupferman called his 'gestalt' works. At one extreme, his 'gestalt' idea involved a mixing of styles, yet experiments in that direction should not overshadow Kupferman's successes in traversing disparate musical material in a manner that is, remarkably, not stylistically inconsistent. New Space (1996) for oboe, violin, and guitar, and Icarus (c.1980) for guitar, viola, and cello are examples of such works. The quiet revolution that Kupferman achieved in such works is notable in that it did not move forward by rejecting something, as the Second Viennese School (with notable exceptions) scrupulously avoided references to tonality, or as many minimalists spurned dissonance.
Kupferman was a master of the ostinato, the distinctive use of which is a hallmark of his music. His themes might be treated to rigorous development, then culminate in layers upon layers of sumptuous ostinati. One of his innovations in this regard was his 'look and choose' sections, where the players have a great degree of freedom in their choices of how layers of ostinati will accrete.
More than 100 of Kupferman's works are available in composer-supervised recordings on Soundspells, Albany, and several other labels.
Kupferman taught composition at Sarah Lawrence College for 41 years and directed an ensemble devoted to free improvisation. An exceptional clarinetist, he gave the first performances of over 60 solo and chamber works composed especially for him and his "Music By My Friends" ensemble. Kupferman was also an accomplished painter and calligrapher.
Kupferman's life was full of interesting stories and dramatic adventures. The premiere of his Jazz Symphony took place in Lithuania when Russia was blockading the Lithuanian border in the early '90s. To make the performance, Kupferman and two associates had to be smuggled across the Lithuanian border in a milk train.
His music was commissioned, performed and recorded internationally by many orchestras including the
Moscow Symphony
,
Japan Philharmonic
,
New Philharmonia of London
,
Orchestre Philharmonique de Monte Carlo
,
Royal Philharmonic
, Mexico's
Orquesta de Baja California
,
Czech National Symphony
,
Vienna State Opera Orchestra
,
Lithuanian National Philharmonic
, and in the U.S. by The
American Composers Orchestra
,
The Louisville Orchestra
, the
Pro Arte Orchestra of Boston
, and the
Kansas City
, and
Hudson Valley Philharmonics
.
Kupferman's music was especially beloved by soloists and chamber ensembles, with whom he worked closely and for whom he enjoyed creating virtuosic works. Clarinetist Charles Neidich performed his solo clarinet work, Moonflowers, Baby, at Alice Tully Hall, throughout the U.S., and in concerts throughout the Soviet Union, Europe, and Japan. He wrote a Double Clarinet Concerto for Naomi and Stanley Drucker, the latter principal clarinet of the New York Philharmonic. Many other prominent soloists, including guitarists William Anderson and David Starobin; violinist Gregory Fulkerson; pianists Gilbert Kalish, Christopher Vassiliades and Kazuko Hayami; cellist Laszlo Varga (principal cellist of the New York Philharmonic under Leonard Bernstein), flutist Samuel Baron, mezzo soprano Jan DeGaetani, and ensembles such as the Cygnus Ensemble, Laurentian Quartet, Bronx Arts Ensemble, Atril 5 Ensemble Mexicano Contemporario, Ariel String Quartet and American Brass Quintet commissioned, performed, recorded and championed his music. This coming spring, guitarist Roberto Limon will perform Kupferman's Elegy for guitar and orchestra at the Havana Festival. This performance marks another important advance in Kupferman's renown outside of the U.S.
Kupferman received many awards throughout his career including awards from the Guggenheim, Ford and Rockefeller Foundations, the Aaron Copland Fund, the National Endowment for the Arts, the Library of Congress, the US State Dept, and the American Academy and Institute of Arts and Letters.
Meyer Kupferman's place in American music was recognized by the New York City Public Library with the creation of a special archive at the Lincoln Center branch of the library, which will house the composer's manuscripts, correspondence and many other personal and musical documents from across his distinguished career.
Meyer Kupferman is survived by his wife Pei Fen, his daughter Lisa Pitt, three stepchildren Fung Chin, Sung Chin and Yung Chin, and five grandchildren.
***
William Anderson has recorded three CDs of the music of Meyer Kupferman—Echoes from Barcelona (Soundspells CD123) Cello Music of Meyer Kupferman with Laszlo Varga (Soundspells CD105) and Images of Chagall with the Bronx Arts Ensemble (Soundspells CD103). He has given solo recital tours in the U.S., Germany, Austria, Mexico, Poland, Russia and Holland, playing classical and contemporary music, including works of his own.