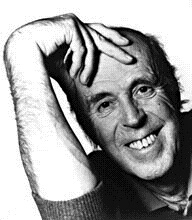 Earle Brown
Photo by Jack Mitchell
Earle Brown, a major force in contemporary music since the early 1950s, died on July 2, 2002, after a long illness. A leading composer of the American avant-garde for more than fifty years, Brown was associated with the experimental composers John Cage, Morton Feldman, and Christian Wolff who, with Brown, came to be known as the New York School.
Brown was born in 1926 in Lunenburg, Massachusetts, and in spirit remained a New Englander throughout his life. Like other artists from that region—Ives, Ruggles, Dickinson—he spoke with his own voice and found his own path. To America these artists were iconoclasts, but to Europe they embodied America—and Brown was no exception: his music has been most frequently performed, studied, lauded, and revered by Europeans.
Brown's love of the music of Charles Ives became evident early on. In his teens he visited his local record shop's listening booths so often to hear John Kirkpatrick's recording of the Concord Sonata that the frustrated shop owner eventually suggested that he simply take the record before he wore it out. Brown also had an early interest in big-band jazz and jazz improvisation. As a student of mathematics and engineering at Northeastern University, he played the trumpet in a big band on weekends. During his military service during World War II, he played in military bands in Louisiana and Texas, where he became friends and played alongside the legendary jazz musician Zoot Sims. It was in the early 1940s that he learned of the writings and compositional theories of the mathematician, Joseph Schillinger, whose compositional techniques he later studied at the Schillinger House School of Music while also studying early music, the Organum, motets, Josquin, and twelve-tone composition with Roslyn Brogue Henning.
Earle Brown met John Cage and Merce Cunningham in 1951. With his first wife, Carolyn, he moved to New York from Denver to work with him on the Project for Music for Magnetic Tape. But Brown brought to the Cage group a very different sensibility—at times aggressive, virtuoso, and rapid-fire, at others exploring an austere, monumental and mobile stillness…always a far cry from the fragility of some of the music of Morton Feldman and Christian Wolff. Brown's work at that time, and even before meeting Cage, reflected his interest in a variety of cultural activities—from the philosophy of Bergson to the poetry of Gertrude Stein, Kenneth Patchen, Lawrence Ferlinghetti, and others to the work of the Abstract Expressionist painters, and Jackson Pollock in particular, Alexander Calder, Jasper Johns, and Robert Rauschenberg, and the choreography of Merce Cunningham. Brown's unique collaboration with Calder in the 1960s resulted in Calder Piece, for mobile and 100 percussion instruments, for which Calder made Chef D'Orchestre, a playable mobile.
While Cage's influence on the avant-garde community has been largely philosophical, Brown's has been tangible and practical. His conducting techniques and experiments with "time notation," improvisation, and open form compositional structure have become part of modern-day compositional usage. In his "time notation," the sound is placed in its approximate visual relationship to that which surrounds it. Time is not indicated mechanistically, as with rhythm. It is articulated for the performer, but not interpreted for him. The effect is twofold. When the performer is made more intensely aware of time, he also becomes more intensely aware of the action or sound he is about to play. As Brown's friend and colleague, the late Morton Feldman, said, "The late Edgard Varese once spoke about the time sound needs in order to speak. Very few composers have understood this thought. No one has understood it better than Earle Brown."
Among Brown's key works was Folio (1952-53), which Brown described as "experiments in notation and performing processes," a series of sequential experimental single-page scores that explored space and time parameters in variable and flexible ways. Brown composed December 1952 (the score was a stark, abstract series of floating rectangles) as a musical equivalent to Alexander Calder's mobiles. As a graphic score it is the most famous and audacious example, constantly being played and re-interpreted by musicians worldwide.
In the 1950s and '60s, as a result of performances, commissions, and lectures at the Darmstadt Music Festival, Boulez's Domaine Musical in Paris, and other groups and orchestras, Brown's music became highly influential among European composers, such as Ligeti, Penderecki, Stockhausen, and Boulez himself, as well as several younger generations of composers and musicians (among them, Donatoni, who wrote two orchestral works, For Earle I and For Earle II). Soon Brown was in the thick of the European avant-garde, and became a close personal friend and colleague of the Italian composer Bruno Maderna who championed such pieces as Available Forms I & II. During this period, Brown composed some of his most impressive and explosive works—Corroboree, for three pianos composed for the Kontarsky brothers, and the String Quartet for the LaSalle Quartet. Later orchestral pieces such as Cross Sections and Color Fields (commissioned by the Koussevitsky Foundation at the Library of Congress), Modules, and Time Spans exemplify Brown's return to simpler material in which he set in motion shifting, monumental orchestral blocks with an emphasis on color and harmonic density. Perhaps most unusual of these pieces is Time Spans, a sound sculpture in space commissioned by the Kiel Rundfunk for the 1974 Olympics.
Through his experience as a recording engineer in New York, Brown knew the owner of a record company who underwrote the costs of the now legendary Time-Mainstream series of eighteen recordings through which Brown introduced the works of composers such as Nono, Maderna, Kagel, Birtwhistle, Giacinto Scelsi, Boulez, and others to the United States in the 1960s and '70s.
Works from the 1980s include orchestral works such as Sounder Rounds and chamber works. Always a romantic at heart, Brown's music of the '90s was imbued with a warmth that became increasingly present with a shade of lyricism intermingled with the typically quick gestures and timbral concerns of the earlier music. Despite ill health from 1995 on, Brown produced striking new work for smaller instrumentations. He also participated in concert engagements in the United States and Europe, including Vienna, Leipzig, London, Bremen, Dusseldorf, Stuttgart, the Prague International Music Festival, and in an homage by Frankfurt's Ensemble Moderne. As a conductor he could transform himself into a powerhouse of energy, molding and sculpting a musical space from instrumental colors on the spot, even when offstage he was in increasingly frail health. He appreciated what musicians brought to performance which, for him, was not just a collaboration but also an act of joie de vivre, a space for passion, and—for Brown—humor.
Brown received numerous commissions, residencies, and awards including a Guggenheim award, an honorary doctorate from the Peabody Conservatory of music (1970), the Brandeis Creative Arts Award, the John Cage Award from the Foundation for Contemporary Performance Arts, and the Letter of Distinction from the American Music Center, among many others. He traveled frequently for residencies at institutions such as the California Institute of the Arts, Yale University, the Tanglewood and Aspen Music Festivals, the Cincinnatti Conservatory of Music, Indiana University, The American Academy in Rome, the Rotterdam Kunsichtig, and the Basel Conservatory of Music, among others. Most recent was his residency in 2001 at MusikFabrik in Dusseldorf.
Earle Brown's generosity to his fellow composers and his broad musical outlook continued throughout his life. Stemming from the intimate friendship he and his second wife, Susan, had with the music patron Paul Fromm from the 1970s onward, Brown served as president of the Fromm Music Foundation from 1984 to 1989. In that role, he organized the Fromm concerts at the Aspen Music festival and commissioned works by composers such as Henry Brant, Ornette Coleman, Todd Machover, Steve Mackey, Steve Reich, James Tenney, and Joan Tower, among many others.
His music was published by Universal Editions Vienna, Schott, and Schirmer.
Brown was a skier, tennis player, an aviation buff, and a collector of Porsches, other fine automobiles, and first editions of Gertrude Stein. For the past thirty years, he lived with his wife, Susan Sollins, in Rye, NY and in New York City. A sister, Marilyn Krysil, of Lunenburg, Massachusetts; a niece, Tanya Morrissey; nephews Steven Krysil, Stephen Sollins, and Andrew Farnsworth; and four grandnephews survive him.