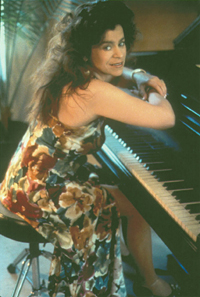 Michele Rosewoman
Photo by Barbara Ernzerhoff
Having recorded mainly with small independent labels, the experience of releasing a recording on Blue Note Records was at first exciting and promising and ultimately disappointing. But this is a familiar story—many have had this experience. One inevitably gets their hopes up. You hope to make it into the "inner family". First meetings and conversations fuel that possibility in your mind, as you feel your value and potential is being acknowledged at a certain level, and you want to believe that the verbal enthusiasm will manifest in deed. Although this may sound strange, I had luckily experienced a previous disappointment with Blue Note I learned to keep my expectations realistic because I wasn't about to feel that discouraged again. So in later years, when we reached the point that the conversation was about, and I quote, "delete and destroy," it didn't throw me too bad. It did give me a revealing story to tell…
Enja Records has been a great association for me, as Matthias Winckelmann is a strong advocate for creative music and has been truly supportive of my musical efforts and contributions. His openness to suggestions made all efforts fairly collaborative, and legitimate requests for tour or promotional support were met with "that makes good sense, really." With an extensive and important catalogue that reflects its long history (close to 40 years?) and in spite of economic uncertainty and changes in the recording industry, Enja has maintained a certain stability out here. I'd say that he fully believes in the music he has produced and recorded throughout the years and that its availability to the public is of great importance to him.
This precludes the possibility of a Blue Note-like scenario, where when the company has decided to conclude their promotional efforts, and the product did not sell to their satisfaction, one may receive a phone call stating: "This is to inform you that your recording has been deleted from our catalogue and that all remaining product will be destroyed." One might think they would prefer to sell remaining product to the artist at a reasonable price, but this is not necessarily the case. "Delete and destroy"—Whew! Hard not to take that one personally. But we learn—we really do!
I am appreciative of every opportunity—they all count. And I am thankful to Bruce Lundvall, proud of that recording, and proud that it was released on Blue Note. But I must say unequivocally, that the support of a smaller company that reflects your worth by valuing and promoting your contributions, is invaluable. I can honestly say that I have never taken that for granted.