See how music can go from a printed manuscript or digital file to a beautifully bound score as Stephen Culbertson, president of the Subito Music Corporation, leads a tour through the Subito printing facilities located in Verona, New Jersey. Subito has transformed music printing and distribution with its on-demand printing service, making it possible for any composer to pay a fee and have hard copies of a score in as little as 24 hours. In addition, the company recently opened "The Subito Store", an online initiative that allows composers to post works, including score and audio samples, onto a searchable Web site. Click below to take the tour!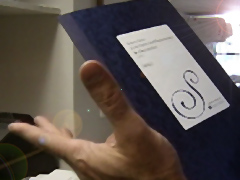 To make sure the QuickTime media streams/displays properly, please open your QuickTime Player and choose "Update existing software" from the "Help" menu and press the "Update" button. Once any applicable updates are installed, come back and watch the concert.
Select QuickTime stream:
Select Real Media SureStream:

CORRECTION: The website for Subito Music Corp. is www.subitomusic.com, not "www.subito.com" as shown in the video. Our apologies for the confusion.
From On The Mark: The State of Digital Music Engraving
By Steven Powell
© 2002 NewMusicBox