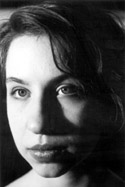 Photo by Melissa Richard
A few months ago, I took a friend who was into electronica and obscure indie-rock to a new music concert at Carnegie Hall, naively convinced that I was opening his eyes to a whole wide world he never knew existed but would embrace immediately as the most cutting-edge music he had ever heard. Unfortunately, I don't think he even heard the music. More accustomed to listening to bands from dark corners in smoky bars, he seemed blinded by the gilt paint. When I asked him what he thought, his comments stuck to the negative, but never touched on the music – it was too formal, too stilted, everyone looked bored. That he had dropped his program and the woman seated in front of him turned around to glare hadn't helped matters any.
He finally admitted that he hadn't really hated the music, but that he would have been more interested in listening to it if the concert had been in a different space, someplace where he was free to move around or get a drink or talk if he wanted to. He might have actually enjoyed the concert that way, but like trying to eat good food in fluorescently-lit restaurant, the venue had killed it for him.
So where should new music be played? Perhaps wherever the audience and the musicians are simply the most comfortable. After all, a venue is supposed to offer the best way to hear a live performance and make listening an enjoyable experience. So what characteristics define that kind of venue? Carnegie Hall is a great place to hear music if you fit in with that community, but a distraction for musicians and audience members who don't. How much formality does music need to be appreciated? Why even go to concerts when you can now watch them online from the privacy of your own home? These are some of the questions tackled by Russell Johnson, CEO of Artec Consultants, Inc., Colette Domingues, Principal, Magalhães Music, and Limor Tomer, curator for BAMCafé, who got together with NewMusicBox editor Frank J. Oteri to debate what makes a great concert venue.
To broaden the issue's scope, Laurie Shulman examines the pros and cons of venues across the country, everywhere from opera houses to church sanctuaries. Sarah Rothenberg, Amy Denio, Mary Jane Leach, and Phil Kline also share personal performance horror stories and reveal some favorite places to hear their own work. What's your favorite place to hear new work? Be sure and post your nomination in our interactive forum.
This month we've also changed the face of News&Views. To keep pace with the field, our news content will now be updated as the news breaks so you won't have to wait for the next issue to read about the latest developments in the field. Check back often through the month. We've also added an In Print section to bring you excerpts from recently published books that you'll likely find of interest. To kick things off, we present American Mavericks: Visionaries, Pioneers, Iconoclasts—a coffee table catalogue of the outsider composers who shaped 20th-century music.
The View columns expand to four writers this month. In keeping with the theme of this issue, Relâche's Artistic Coordinator/Executive Director Thaddeus Squire discusses venues in Philadelphia under the shadow of the new Regional Performing Arts Center, and Florida-based composer Orlando Jacinto Garcia takes a look at how we judge different forms of musical expression. NewMusicBox regular Dean Suzuki explores simplicity vs. complexity in great music and Greg Sandow delights in the musical motifs of Jean-Luc Godard and a performance by Eve Beglarian.
As always, NewMusicBox's own Amanda MacBlane tirelessly sifts through the latest in new music CDs so you won't have to. This month's installment features sound samples of over 35 discs, so explore and pick up the best music to program in that most frequently attended of new music venues—the home stereo. And now, not only can you listen to music on NewMusicBox, but you can also create your own on Morton Subotnick's Toolbox1.