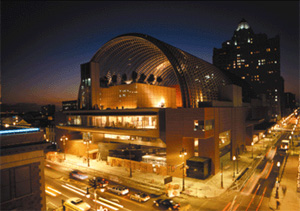 Many ASOL conference delegates got their first look at Philly's new Kimmel Center for the Performing Arts
"If there were no American Symphony Orchestra League, these times would require that we invent one," noted League Chairman Henry Fogel, in remarks opening the service organization's 57th National Conference hosted by The Philadelphia Orchestra June 11-15.
An estimated 1,300 delegates representing orchestras across the nation were in attendance, a much higher number than anticipated, and the tenor of the proceedings seemed especially collegial. The five-day event focused on an orchestra world rocked by the post-September 11 economic downturn and one fighting public and media stereotypes of what an orchestra can and should be in the 21st century. Since the terrorist attack coincided with the opening weeks of orchestra seasons across the country, gala opening programs and season ticket drives where scrapped and free community concerts took their place. The move demonstrated the important role many orchestras play in their communities, a fact highlighted at the conference, but it also took its financial toll on the community as a whole. Despite harsh economic realities, however, it seemed that orchestra professionals across the country felt an especially strong need to gather together in this climate.
Though new American music was by no means the focus of conference activity, it did permeate many of the sessions and concerts. The League's Chief Operating Officer Jack McAuliffe noted that much discussion was focused on finding the balance between serving the music and fulfilling audience expectations. "We are adamant that we should not be market driven, but we should be market informed." Some 300 orchestras have been aided by the Audience Motivation Research Project, a League-driven initiative that is offering orchestras a new window on audience expectations and a "new way of talking about programming."
The premiere performance of Jennifer Higdon's Concerto for Orchestra, given by the Philadelphia Orchestra at the conference's opening concert, illustrated for McAulliffe that part of that new perspective on programming is that orchestras realize that "it's safe and essential to play the music of today's composers, aligned with those [works] of enduring value." He expects that Higdon's work specifically will only become more valued through repeat performance and show that new music "is not just to be accommodated, but can be an important asset."
Writing for the Philadelphia Enquirer, David Patrick Stearns was enthusiastic about the piece's artistic merits. It "has ecstatic climaxes, scintillating interplay among instruments, and an orchestration that delivers wave after heart-stopping wave of intoxicating color. Musicians love playing scores that make them sound this fabulous – music director Wolfgang Sawallisch was visibly delighted – and audiences can take them to their hearts at first blush." The buzz at conference indicated that many of the delegates who heard the work agreed.
The Philadelphia Youth Orchestra, under the direction of Joseph Primavera, also offered an enthusiastic reading of an American work–Walter Piston's Symphony No. 2. Their performance was followed by a keynote address by choreographer Mark Morris. Referencing current world political events, Morris spoke of the importance of creating music as a "global survival strategy." He noted that "new works become part of the tumult of our conversation," a way to say "what we need to say when there are no words or the words cannot be heard."
Of the many panels assembled for this conference, perhaps the most high profile featured the executive directors of several major players on the orchestra scene who have all faced recent financial challenges—W. Randolph Adams, president and executive director, Saint Louis Symphony Orchestra; Henry Fogel, president, Chicago Symphony Orchestra; and Allison Vulgamore, president, Atlanta Symphony Orchestra. All spoke to the importance of consensus building among the various factions of the organization and the importance of public honesty during a crisis situation. Turbulence, despite the negative connotation often associated with the word, is a "sure sign of life."
Here, as with the other sessions, most of the dialogue sparked ideas but time constraints didn't allow for much in-depth discussion of the issues. Two consecutive sessions were devoted to the possibilities and pitfalls offered by the ever-developing world of technology. Joseph Kluger, president of The Philadelphia Orchestra and moderator of the first session, noted that a distinction needs to be made between technology used as a gimmick versus technology used as a way to develop the art form, and spoke to the desire to attract new audiences without alienating the old ones. It was clear that the panelists and session participants were far from reaching a consensus about where that line should be drawn and that each orchestra had its own ideas about just how adventurous a use of technology was needed to fulfill its particular mission.
In one of the most provocative sessions of the conference, Carnegie Hall Artistic Advisor Ara Guzelimian asked a group of music professionals from various vantage points (including orchestral musician, composer, composer-advocate, journalist) to program a season for a hypothetical orchestra somewhere in the United States. Noting the challenge of making everyone happy while balancing the budget, music critic Greg Sandow admitted, "I have nothing but sympathy and respect for those who have to do it." The overall tone was not so much can orchestra's create new and adventurous programs, but how to go about doing it. Guzelimian stated, "There is a temptation to say that adventurous programs won't fly, but there's a poignant loss to our profession from tempering our ideals with practical realities." Sandow, however, argued that no matter what an institution would like to program, "if orchestras can't exist [financially], they can't exercise any artistic ideals at all."
The conference also set aside session time for major publishers—EAMDLLC, Theodore Presser, Subito Music, BMG, Peer, G. Schirmer, and Boosey & Hawkes—to address the delegates under the title "Fresh Ear—New Music for Orchestras." Each presenter took a practical approach to introducing new repertoire possibilities to the assembled orchestra representatives, offering sound samples of works a traditional audience would likely be comfortable with. For example, Roberto Sierra's Fandangos was suggested as an alternative to Ravel's Bolero, Daniel Dorff's The Kiss was offered as a good pair with Pictures at an Exhibition, and G. Schirmer suggested programming Augusta Read Thomas's Words of the Sea with Debussy's La Mer. Self-published composer Raymond Wojcik jumped in at the end of the session to advocate for his own work, demonstrating the pluck and tenacity the self-published composer must have to draw attention to his or her work when the opportunity presents itself.
At the League's annual meeting, Chairman Fogel reported that the League was "on track in every way" financially and business was concluded quickly. Eileen B. Mason, acting chairman of the National Endowment for the Arts and a violinist, shared some personal reflections and expressed, on behalf of the agency, her appreciation for all the work orchestras do in American communities. Robert Harth, who took charge of Carnegie Hall in September, spoke eloquently of the challenges he has faced as the brand new leader of a landmark building in New York City and how Carnegie coped with the public tragedy of Sept. 11, followed only days later by the loss of the hall's own patron, Isaac Stern.
The annual awards ceremony was lightly attended but enthusiastically received. A number of orchestras were honored with ASCAP/ASOL Awards for Adventurous Programming (see list). Presenting the awards, composer Jennifer Higdon noted that the recipients "were to be applauded for making classical music relevant by performing works by living composers." In addition, John Jeter, music director and conductor of the Fort Smith Symphony Orchestra, was awarded the League's Helen M. Thompson Award, given to support and encourage up and coming music directors. Past-president of The Orchestral Association (now known as the Chicago Symphony Orchestra Association) and chairman of the Symphony Orchestra Institute Paul R. Judy was awarded the League's highest honor for service, the Gold Baton.
Closing the conference, Philadelphia Orchestra President Joseph Kluger, visibly exhausted, noted that the week of events had confirmed that "our orchestras are not only alive and well, they are thriving."