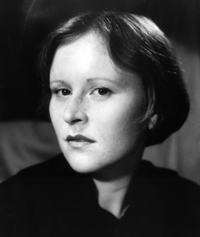 Olga Mychajluk
[Ed. Note: The following address was given during the Closing Celebration of the 2003 American Symphony Orchestra League Conference on Friday, June 20, 2003, in Salon 8 of the San Francisco Marriott in San Francisco CA.]
My fellow Fellows and I–Makiko Freeman, Lora Unger, Gloria Kim and Ari Solotoff–have been active participants at a total of sixteen organizations over the past year, in the pursuit of a deeper understanding of the orchestral field. I am honored to speak on behalf of my fellow Fellows to this assembled group of our peers, elders, and mentors today.
It has proved a daunting task to compress the value of our experiences down to three minutes. What can you say about an industry that has inspired such debate, passion, rancor, animosity, despair, and joy? The same industry that caused us to leave our families to travel around the country for a year and learn and share in your experiences has provided the impetus to bring us all together today. But some truths have emerged as we've traveled, and I would like to share them with you, in return for the gift you've given to us this past year.
One of those truths is the discovery that there is in all of us the essence of leadership—and that truth in turn begs a request: please, don't leave leadership to others—we're all leaders. When leadership is shared, there is a palpable impact on an organization—it becomes broader, stronger, and everyone has more of an investment in it than if one person is the sole dispenser of that leadership. It falls to all of us to step up and exercise leadership, it's not the exclusive purview of those in named positions. We must all line up, shoulder to shoulder with those who have assumed the burden of leadership.
This year all five of us saw various organizations taking worthwhile risks and reaping great rewards. But then we begin to wonder, why do we call these activities risks at all? It shouldn't be a risk to play great music, or to nurture the next generation of talent, or to commission a new work, or to honor the past—BUT IT IS. I would like to propose that as a group, we set out to look again at "risks," and recast them in a way that draws us to embrace and aspire to them—it could be as simple as thinking of them as CHALLENGES. And I will suggest that to do this, we need two things in addition to leadership, which I've already touched on: we need collaboration, and we need vision.
Collaboration I mean not as an end in itself but rather as a tool, one through which an organization can take risks. And we have a living metaphor for this at the center of our collective, professional universe: the orchestra itself.
The orchestra is a model of collaborative effort. Propelled by a visionary leader, all of the orchestra's parts collaborate to produce a coherent and harmonious whole, secure in their own parts and in their own expertise, and certain that without their contribution, the work would be incomplete. These men and women illuminating the score for us every day are leaders sharing their voices with one another.
I put it to you that orchestras need to nurture a commitment to allowing the voices (of its people) to be heard. All too often, sharing one's voice in our organizations comes across as a violent act, when it should be an act of joy. That is especially true in the most difficult of times, because it is in times of crisis that these voices are the most valuable source of new ideas and energy upon which an organization can draw. Their commitment to excellence can inspire us to re-think long-established patterns and, like reinterpretations of old chestnuts of the orchestral repertoire, reinterpret and revitalize ourselves.
But we also need vision. I never thought I'd hear myself saying this, but one of the most vivid moments I had during the past year occurred at a meeting of the Finance Committee at one of my assignments. It's true: the chair of the committee, in an informal chat outside the room before we started, gushed about the magnificent weekend he'd just spent at a festival, where for three days he reveled in orchestral concerts, chamber music, and recitals. Then he sat down and chaired the meeting where he presented and reviewed the budget in concise language, made recommendations and then asked us to join him in agreeing on some principles which he felt were essential to stabilizing (the organization).
And you know, it wasn't his raves about the concerts that moved me—it was how clearly and passionately he argued the necessity of a clear and purposeful vision of the future of the organization, of drawing a line in the sand and saying: "We will measure our success from today forward against this benchmark." It was breathtakingly clear.
My point is that I believe he was so eloquent BECAUSE of his love for the music. He chose to take that love and translate it into leadership on that board—in his way he played his part, no less than the concertmaster or audience member.
I believe that music makes leaders out of all of us when we let it speak to us, and when we include it in our dreams. Because, like this man, we don't dream about the bottom line at night—we stay AWAKE doing that, and believe me, these days we need to be WIDE awake for that. NO, when we dream, our dreams are about music and artists and composers and becoming better people because of them.
Through the leadership of the American Symphony Orchestra League, we five Fellows are privileged to be here today to join everyone in this room, because your presence here means you are all leaders already. We look forward to stepping in line beside you all as we march forward, and, like the music and orchestras that inspire us, play OUR parts, together, in concert.