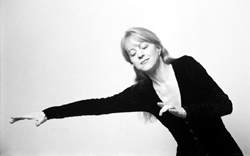 Maria Schneider
Photo by David Korchin
I approach composing and orchestrating for big band in a way that might be considered unusual. Instead of delineating each section, I try to dissolve the obviousness of sections. I look at the band as a chamber group having limitless solo or combined possibilities.
There's far more than the obvious 13 winds when one considers that trumpets can play flugelhorns and that the all the brass have many possibilities for mutes that can be used in any combination, and that the reeds have many possibilities for doubles. Then there's the guitar, piano, bass, and drums that I see not just as providers of rhythm and harmony, but also as contributors of color to line and harmony.
When one approaches the big band that way, it can become a very flexible, subtle and dynamic ensemble. The mutes and doubles can be used in different combinations of 1 to 13 or more people. The possibilities are endless, especially when one goes even further to account for all the various individual sounds of the orchestra members. When you start to mix those colors across sections, rather that writing melodic or harmonic ideas within one section, or start to mix a trumpet with a wind or two, against a backdrop of another mixture of contrasting color instead of the more usual brass in opposition to the reeds, you start to find a multitude of unique colors coming in different degrees of opaqueness or translucence. If one adds to that the coloristic influence of harmony and melody, then the possibilities become truly endless.
Usually the big band is approached as if the sections are three primary colors. That makes for a more traditional and very effective sound to be sure. But I'm starting from a different vantage point. Sometimes I come back to unite sections, but more often than not, I'm attracted to searching for sounds one would never imagine could come from a big band.