The basic characteristics of a recital hall are similar to those of a concert hall with the obvious exception of size. A recital hall is essentially a small concert hall, but louder and more responsive. Smaller halls provide an intimacy that is desirable for chamber music and solo recitals. The performers must occupy the same space as the audience. There is less psychological and physical separation than a proscenium stage offers. The lower seat count means that each audience member feels a more direct connection with the performer(s).
A frequent problem in recital hall design is the creation of wide, shallow rooms, which are less desirable than a classic shoebox because of the way that sound reflects in the space. Another problem is a seating rake that is too steep. This occurs frequently in small halls that double as theaters, where sight lines are so important. Again, with improved sight lines comes interference with optimal sound reflection, and thus has a compromising effect on the warmth, presence, and envelopment that audience members desire. The small Nordstrom Recital Hall at Seattle's Benaroya Hall has an overly steep rake, as does Caruth Auditorium on the campus of Southern Methodist University in Dallas. One of the more successful recital halls in North America is the 1000-seat George Weston Recital Hall located in the Toronto Center for the Arts.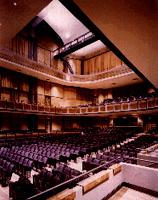 Interior of George Weston Recital Hall, Toronto, Ontario
The sound of even a small instrumental ensemble (violin and piano, for example) is substantially louder than the human voice. Recital halls deal with this by using higher ceilings to control excessive loudness. The higher ceiling increases reverberation, a great advantage for musical acoustics. Smaller halls generally have greater clarity, which balances the increased reverberation.
In a small ensemble, definition between instruments is of greater importance, since the musicians are playing one on a part—in contrast with entire sections of instruments playing the same line of music in an orchestral context. Clarity is easier to achieve in a small room, which is the reason that solo piano concerts, vocal recitals, and chamber ensemble performances are ideally suited to recital halls.
From Out of Place: A HyperHistory of the Elusive Acoustics of Concert Hall Venues
By Laurie Shulman
© 2002 NewMusicBox