Performance in the great outdoors is as ancient a tradition as music itself. Certain instrumental families—winds, brass, and percussion—have always been better suited to outdoor performance than strings. Because they are louder, more powerful instruments, their sound carries better in the open air. Furthermore, these sturdy instruments are less vulnerable to weather conditions than the more delicate string instruments. (There are reasons that high school marching bands comprise woodwinds, brass, and percussion, but not strings!) When Handel composed his Music for the Royal Fireworks and Water Music, his original scoring was heavy on oboes and other instruments with sonic heft that would carry in the great outdoors. Plus, King George I had a well-known distaste for fiedels, whose sound annoyed him.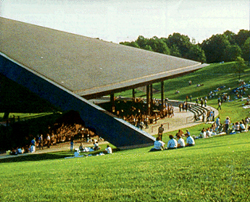 Cleveland's Blossom Festival, Cleveland, Ohio
Courtesy the Blossom Festival
When musicians play outdoors, there are no reflections; everything consists of direct sound. Since good acoustics rely upon reflections, the only way to improve the acoustics is to create a surface or surfaces off which sound can reflect. That is the basic principle that underlies the 'acoustical shells' and open-air sheds we all know from performances by the Metropolitan Opera and New York Philharmonic concerts in Central Park, Cleveland's Blossom Festival, the Boston Symphony's Tanglewood, the Chicago Symphony's summer home, Ravinia, and in dozens of less celebrated venues around the country.
Another obvious solution to the conundrum of outdoor performance is electronic amplification. Although this does not yield ideal acoustics, it at least makes the music audible, providing enough volume that the audience can hear the music. Since outdoor performances are usually designed to bring music-making to a vast audience, amplification serves a valuable purpose in that context. In addition to addressing the simple matter of loudness, the more sophisticated outdoor sound systems with multiple distributed speakers and sophisticated electronic signal processing can provide some of these reflections electronically.
From Out of Place: A HyperHistory of the Elusive Acoustics of Concert Hall Venues
By Laurie Shulman
© 2002 NewMusicBox