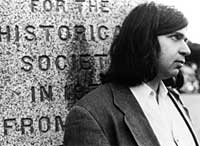 Frank J. Oteri
Photo by Melissa Richard
For most people, here and around the world, now and throughout history, music is primarily a soundtrack to accompany other activities: recreational, devotional, etc. Concentrated listening to music, to the exclusion of all other sensory stimuli, has always been and will probably always continue to be a rarified experience. Yet for those of us for whom music is a central part of existence, it is sometimes extremely difficult to "think outside the box" and comprehend music in anything but a primary role.
Musicologists and anthropologists have frequently posited that music evolved in tandem with dance. And while today a great deal of music exists beyond dance, very little dance is made without music. Moreover, dance, more than any other art form, maintains a remarkable symbiotic relationship with music: needing it as well as nurturing its continued evolution.
In fact, the person responsible for the creation of the most new music in America is not a composer or a conductor or even a patron of new music. It is the dancer and choreographer Merce Cunningham, whose unique approach to working with composers, starting with his remarkable partnership with the late John Cage, has not only greatly influenced the direction of American music in the past 50 years but has midwifed a repertoire of compositions that happily exists independently as music also.
While Cunningham's efforts have been paramount in the history of American music, many other choreographers have inspired and have been inspired by important American musical compositions. Some of the most fruitful of these collaborations are enumerated here in a HyperHistory by New York Times dance critic Jennifer Dunning. Whether or not music created for dance can exist independently as music is a question we posed to a group of composers ranging from Paul Dresher and Bun Ching Lam to Alice Shields and Guy Klucevsek. And we ask you to consider your listening habits when you hear music performed with dance.
In our InPrint section this month, we are thrilled to feature an excerpt from Steve Reich's collected Writings on Music, just published by Oxford University Press. Keeping in step with this month's orientation, we offer Reich's comments on dance.
While neither of this month's Views colums deal with dance, ultimately Dean Suzuki's plea for experimental composers to reach out and Greg Sandow's provocative essay in which he argues that assessing Schoenberg the man is essential to assessing Schoenberg the composer both stem from the realization that music cannot and does not exist in an artistic vacuum. Finally we offer details about 25 new recordings featuring the work of American composers, some originally intended for exclusive concentrated listening, others created as part of collaborative interdisciplinary works, but ultimately thanks to recording, all malleable sonic material for listeners who will inevitably develop new contexts while listening.