It's hard to have a more quintessential outdoor music experience in Los Angeles than the Hollywood Bowl. Last week I took my twin sister on a birthday rendezvous to hear Candide. The Bowl is an odd place. It has an amazing history in LA. Long before amplification, Angenlinos would trek there, picnic basket on arm, to sit under the stars and listen to classical music. In its current incarnation, it now has huge LCD screens, state-of-the-art amplification, and dumplings-on-demand.


The Hollywood Bowl, back in the day
So back to Candide. It was pretty wonderful. Probably the best thing about seeing and hearing it in that venue is that there is a real equivalency between different kinds of sound. Because every instrument, every voice, is amplified, everything has the potential to be equally heard. In fact, the audience's perception of the whole performance is contingent upon what the sound designer wants us to hear. It's like some higher form of post-orchestration, an outdoor recording studio where you can control every sonic aspect down the the minutia of how elements are perceived. For a piece like Candide, this is kind of perfect: Pangloss' spitting reparté is heard as loudly and clearly as Cunegonde's delightfully ear-splitting coloratura, although the occasional amplified orchestrational oddities that poke out aren't, I'm sure, what Bernstein intended.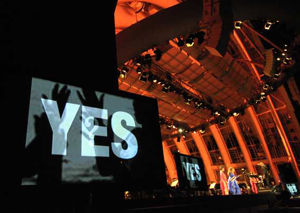 Production shot from Ask Your Mama
From the visual standpoint, the Bowl presents another big challenge and opportunity with its eight LCD screens. I know more about this than I should, having produced Ask Your Mama at the Bowl last summer. Because Ask Your Mama is a multimedia opera, it required moving swiftly between pre-created films and live video. We curated the way that the audience visually engaged with the piece, down to which instrument they might actually listen to more closely because of what they were seeing on screen. It was a conceptual approach geared to how the audience heard through seeing, based upon what the Langston Hughes text was suggesting. In Candide, I wished that the visual curators chose more of the contrapuntal lines instead of constant close-ups on the singers.
Both amplification and the visual bring up a powerful idea about our (as creators) approach to educating, engaging, and enlivening new audiences:
Amplifying live music is where many of us find ourselves, whether as a means of integrating electronics/multimedia etc., performing in venues with alternative acoustics, or trying to communicate with generations more accustomed to sound emanating from speakers than from instruments. How can we make strong choices about how amplification hierarchically works to help audiences hear in more deep, interesting ways?
How can we make compelling visual choices that, when faced with curating live elements, direct the attention of the listener to see, and therefore hear, more musically, deeply and more organically?