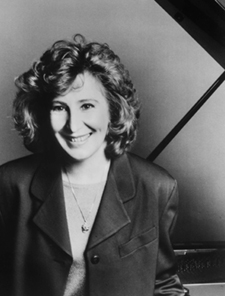 Photo by Christian Steiner
Molly Sheridan: You've achieved quite a reputation in the new music community for your excellent performances, recordings, and commissioning activity. I'm curious about what attracted you to playing that type of music in the first place. As a piano student you could have specialized in many different areas…
Ursula Oppens: First of all, I would not use the word specialization because I play all kinds of music, it's just that I love new music as much as I love Beethoven and a lot of people think one excludes the other. It really has a lot to do with my parents who were musicians who had come as refugees from Europe in 1938 and they felt that they had left great culture behind. Also, of course, because of the war and everything, I think they felt that perhaps great culture was done, that so much was over. But they had both been interested in new music themselves and my mother had studied with Webern and gone to some of the performances of the Society for Private Performances. So with that background, and when I realized that there is fantastic music being written now and in America, it was just something I became extremely interested in. There are a few things I remember. I remember when I was a teenager hearing the Juilliard String Quartet do some lecture demonstrations of the Carter quartets and this was in the '50s. And also in the '60s I started going to the concerts of the Group for Contemporary Music at Columbia and I found that I was able to listen to new music in a way that was more intense than listening to music I had heard already. So I guess those are the things that got me really started.
Molly Sheridan: How does it feel to you to play this music, as opposed to when you're playing Mozart or Beethoven. Does it have a different feel to it physically or emotionally?
Ursula Oppens: Not in a general sense. The first really strange experience I had you could have said had to do with 20th-century music but it also had to do with playing an ensemble part where the ensemble was such a small part of the whole. When I was a freshman in college learning the second piano part for Les Noces, I couldn't understand it because so much of the music of Les Noces is in everything else. So that was quite different as a pianist from either playing a solo piece or a piece of conventional chamber music where you have so much of the material. But there are different kinds of new music and composers. You can really hear so much of the history in the music and you want to bring out the character and so each piece is different, not so much new and old, for me.
Molly Sheridan: I know that you've done a lot of commissioning. What attracts you to a particular composer? What kind of things do you look for?
Ursula Oppens: The main thing is whether you feel they would write a wonderful piece for the medium you're commissioning in. For instance in most cases if someone had just written a wonderful piano piece for somebody else, I would be more inclined to learn that piece eventually than to expect them to sort of repeat themselves but be new and different at the same time. I think there are some exceptions to that but that might be something in general. You know with solo piano it's been more a question of loving someone's music and feeling like they have a piano piece in them that they haven't written. So it's a combination of things.
Molly Sheridan: I saw that you did your undergrad in English literature and economics, which is an interesting background for someone who ended up with a professional career in performance. If you had it to do over, would you still do that?
Ursula Oppens: Um…yeah. I mean it's hard to know exactly, but when I went to Radcliffe, which is now Harvard, there was a great deal of spontaneous music making. I was playing chamber music concerts left and right for four years and also I got to play almost every year with one of the student orchestras, which is actually more than you get at any conservatory where you can only win the concerto contest once. So I really had a lot of fun as a musician as an undergraduate, though at that time I really didn't think I was going to become a professional musician. It's not bad for a musician to have an education in other things. In general, as a musician, unless you're going to join an orchestra, which is of course a wonderful thing. To some extent one has to design one's own life. I mean there aren't such easy patterns out there in terms of careers. There's only one Kissin. And so in that sense learning to think critically I think is very important whether you do that in the context of music courses or English literature, being able to think beyond what people tell you, to imagine situations beyond what already exists. Something I hope I learned in college but something I would recommend for young people now too.
Molly Sheridan: You said you weren't planning on a professional career at the time. What were you planning on doing? Did you have some sort of career outlined?
Ursula Oppens: Well, I didn't really know. I thought maybe I'd be a lawyer. I didn't know what professions were out there and in fact in my senior year, this was 1965, we had our whole hour of career counseling, and as an English major they said, 'Well, you should learn to type and then you could be a secretary in a publishing house or get a PhD.' And I thought, 'Typing, I can play the piano better than I can type!' I mean now I can't imagine living without music, I just feel that if I don't play the piano for more than a few days I really go crazy. But at that time I didn't know what I wanted to do in music, and I have to say that being involved in new music is what made it possible for me to be a musician.
Molly Sheridan: How important is teaching to you?
Ursula Oppens: Well, it's become very important. I've been teaching at Northwestern for about seven years, but some of that time I was on leave. I really love teaching now and I have some wonderful students. Not all, but some of them are very interested in new music and very active. I feel I'm really involved in making the future happen, so I love it.
Molly Sheridan: Do you think you push modern repertoire more than others would or that students seek you out because of it?
Ursula Oppens: I think it's more that way. I have a student who will be recording Carter's Of Challenge and Of Love with a soprano for the Bridge series which is the big, almost the official Carter series, so that's very exciting.
Molly Sheridan: And that segues nicely into my next question. I did want to ask you, you have done quite a bit of recording over the years in addition to your performance schedule. What do you feel is the ideal way to hear this music, live or recorded? And what impact do you think the current doom and gloom hanging over the industry will have?
Ursula Oppens: Well, one records for two reasons. One is when a piece hasn't been recorded or hasn't been recorded well, it needs to be because not everyone can hear it in live performance. And then as a performer, you'll forget the pieces. So if you have something that's unusual and special, you should try and record it before you can't play a note of it anymore.
I'm very aware of the doom and gloom in the record industry because there's another Carter record that we made some years ago and it still hasn't come out. We're looking for the money to edit it. I suspect though that the Internet is going to be fantastic for the diffusion of new music. We certainly don't think of recording as something to make profit at very much, but we think of it as a way of getting knowledge out, I think for two reasons. The most ordinary use of the Internet, simply that a place like amazon.com can warehouse far more titles in North Dakota than you can have in a store in Manhattan. But the other thing is which I'm not at all up to date on, is the technology of simply feeding the music directly onto a CD in your computer. I think that will be very good for music that doesn't have huge sales.
Molly Sheridan: I saw a quote from TIME magazine. They called you the Madonna of contemporary music. How did that happen?
Ursula Oppens: I don't know. It was about ten years ago. I think at that time I had used the analogy of thinking of a performer of a new piece as being kind of a midwife–helping something come out into the world, so maybe it grew out of that. I don't know.
Molly Sheridan: I'm curious about what kind of music you like to listen to…
Ursula Oppens: I like to listen to new music, I like to listen to music I don't know. But now between practicing and listening to student's concerts, and I listen to the music of my friends and the performances of my friends…and I don't listen as much as I should but there's only so much time. I like only to listen to live music. I only listen to tapes or CDs under duress. So I guess that's the category. I like to listen to live music by live performers. Even if that's live electronic music, but created in real time.
***
Ursula Oppens has won equal renown as a piano interpreter of the established repertoire and a champion of contemporary music. An enduring commitment to integrating new music into regular concert life has led her to commission and premiere many new compositions, including works by Elliott Carter, Anthony Davis, John Harbison, Julius Hemphill, Tania León, Witold Lutoslawski, Conlon Nancarrow, Tobias Picker, Alvin Singleton, Joan Tower, Lois V Vierk, Christian Wolff, Amnon Wolman, and Charles Wuorinen. Her extensive discography includes two recordings of Elliott Carter's Piano Concerto (New World and Arte Nova), a disc of recent Carter chamber music with the Arditti Quartet (Audivis), concertos by Francis Thorne (New World) and Joan Tower (d'Note), Charles Wuorinen's Piano Quintet (Koch International Classics), and two Grammy-nominations: Frederic Rzewski's The People United Will Never Be Defeated (Vanguard) and American Piano Music of Our Time (Music and Arts), Ms. Oppens is a co-founder of Speculum Musicae, a seminal New York performing group that has pioneered new music since 1971. She has been presented in recital around the world and has appeared as a soloist with the New York Philharmonic, the Chicago Symphony, the Cleveland Orchestra, the Los Angeles Philharmonic, the American Composers Orchestra, and many of the nation's leading symphonies, as well as the St. Paul and Los Angeles Chamber Orchestras. Ms. Oppens received her master's degree at the Juilliard School. Ms. Oppens made her New York debut at Carnegie Recital Hall in 1969 under the auspices of Young Concert Artists. She won first prize in the Busoni International Piano Competition that same year, and was awarded the Diploma d'onore of the Accademia Chigiani in 1970. Ms. Oppens currently holds the position of the John Evans Distinguished Professor of Music at Northwestern University in Evanston, Illinois.