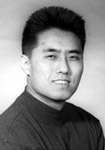 Paul Yeon Lee
Photo courtesy Paul Yeon Lee
Paul Yeon Lee has won the 2001 Whitaker Commission, a prize that includes a $15,000 cash award and a world premiere performance by the American Composers Orchestra. The 31-year-old composer's work Phoenix was selected from among eight finalists at the ACO's tenth annual Whitaker New Music Reading Sessions. Composer Joshua Penman received an honorable mention for his piece As It Is, Infinite.
Held in New York this past April, event attracted nearly 200 submissions from composers across the country. Under the direction of, ACO Music Director Dennis Russell Davies and Artistic Director/composer Robert Beaser, with guest conductors Jeffrey Milarsky (music director of the Columbia University Orchestra) and Gil Rose (artistic director of the Boston Modern Orchestra Project), the ACO rehearsed and recorded the works of the eight finalists in six and a half hours. ACO Executive Director Michael Geller describes the day-long reading session as "quite emotionally charged, because it compresses everything about a performance – from literally the first glimpse of the music to the performance – into a very short time, so there's a lot of pressure [on everyone]. On the composer most of all… It's a long day, but a very rewarding one."
In addition to a professional recording of their piece, each composer receives very specific feedback from the conductors, a group of mentor composers present for the day, and the orchestra's musicians and librarian.
Geller says that Lee stood out as a "tremendous talent. I think he's got a special gift that's immediately apparent. Amongst the panel it was a unanimous decision that Paul was a terrific composer and deserved the commission opportunity." The ACO musicians were also supportive of Lee's work. Geller says the piece "got a lot of great comments. They really enjoyed the piece and looked forward to more from him."
Lee is currently a doctoral student at the University of Michigan, Ann Arbor and has had his works performed by such ensembles as Speculum Musicae, the Charleston String Quartet, University of Michigan Philharmonia Orchestra, and the Haddonfield Symphony. He has studied under Leslie Bassett, William Bolcom, Bright Sheng, Pablo E. Furman, and Allen Strange and has won the Charles Ives Scholarship from the American Academy of Arts and Letters, the Haddonfield Symphony Young Composers' Competition, and an ASCAP award. In addition to the Whitaker commission, Lee is currently working on a piece for five percussionists commissioned by percussionist Anthony J. Cirone of the San Francisco Symphony, and a commission for cellist Stephen Czarkowski of the Contemporary Music Ensemble at Mannes College of Music.
The works of seven other finalists were also given performances at this season's reading:
Joshua Penman, a senior at Yale University currently working on a 75-minute electro acoustical chamber opera, entered As It Is, Infinite (honorable mention).
Leonard Lewis, a University of Missouri at Columbia faculty member, entered Concerto for Orchestra.
Gregory Spears, previously a student of Augusta Read Thomas and David Liptak at the Eastman School of Music and a current student of Ezra Laderman, entered Circle Stories.
Dalit Warshaw, a student of Milton Babbitt and Samuel Adler, and, at the age of eight, the youngest person ever to win the BMI Award for Student Composers, entered Tyburne Dance.
Paola Prestini, co-director and founder of a multimedia group VisionIntoArt, entered Blue (Some Souls).
Roger Przytulski, currently completing a masters degree in composition at the University of Southern California, entered Blitz.
Thomas Tumulty, a finalist in the 1999 Mitropoulos International Competition and a recipient of a Helen Hayes Award nomination for his directing work in theater, entered Symphony No. 1.
More than 50 composers have participated in the Whitaker New Music Reading sessions, including Melinda Wagner, Derek Bermel, and Jennifer Higdon. The event is made possible by a grant from the Helen F. Whitaker Fund.
The next reading will be held on May 24, 2002. Additional information and an application are available at www.americancomposers.org/wnmr.htm.