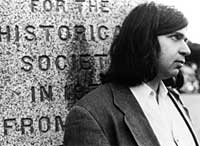 Frank J. Oteri
Photo by Melissa Richard
To this day, even though I'm now on the Board of Directors of the Music "Critics" Association of North America, I have a problem identifying myself, or any one else for that matter, as a music critic.
I know that once upon a time the word "criticism" connoted pretty lofty goals, some of which are still in our language to a degree, e.g. critical thinking is still something to aspire to even though there seems to be less and less of it around these days.
But in reality we don't live in once upon a time, we live now in a world where, for example, the President's critics are never his fans, and where saying "I can't really take criticism" never means you hate it when people tell you that you're great. The word critic implies a negative, and a rather strong negative at that, whether it's there or not in a review column or any other writing about music. And what the general public perceives drives the medium to a good extent, right? After all, general public perception has been one of the key defenses of the so-called everyman critic, an outsider who is somehow more objective than a practitioner, with all that conflict of interest baggage, could ever be.
I would counter that objectivity is something of an ascetic panacea and that to be totally objective about something you feel passionate about can only lead to stagnant prose, which is the case for much of today's so-called music criticism. At the risk of being somewhat polemical, my frequent retort to those who say that Schonberg killed contemporary music is, "You mean Harold right?"
As a composer who frequently writes about the music of other people, the last thing I ever want to do is criticize music, which is my passion and my life. Rather I want to defend it! In my writing, I aim never to be "critical" in the negative sense, and I hope I'm not. I do not aspire to a conflict of interest avoiding objectivity, because such an ascetic goal is ultimately futile in a world where we are all connected to one another. At the same time, I don't lavish praise on things I don't genuinely like in order to curry favors or performances. Most intelligent people can see right through that.
However, mine is just a voice in the chorus of numerous views. There are as many opinions as there are music critics, or defenders, or journalists, or whatever we wind up calling them. I moderated a panel in Santa Fe in late July for the Music Critics Association in which a daily newspaper reviewer and a freelance music journalist squared off against two composer/conductors about ways to approach writing about premiere performances. Their thoughts and the comments of everyone in the room are presented here in full. We asked Danny Felsenfeld, a composer and music journalist who is not afraid of being critical, to criticize music criticism. We also invited Ned Rorem, Carolyn Yarnell, David Rakowski, John Corigliano, James Wierzbicki and John Zorn to share with us their poignant remarks about the state of music criticism, and as a special bonus this month, we offer a reprint of a 20 year old essay by Ned Rorem on the subject as well as a 1989 Telluride panel on the state of music criticism that included the late John Cage. We ask you to share your thoughts with us as well.
Greg Sandow, who is also equal parts composer and music journalist, offers some end of summer thoughts on animal sounds from the vantage point of his country home. Dean Suzuki delves into the homemade instruments Paul Dresher has created for his Sound Stage. Molly Sheridan spoke at length with Tara Browner, a Chocktaw pow-wow dancer and ethnomusicologist, whose recent examination of American Indian music and dance, Heartbeart of the People, is also excerpted here this month. Amanda MacBlane has contributed musical defense for a record 56 new recordings featuring American repertoire.