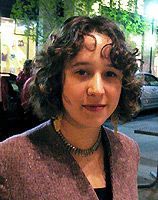 Alyssa Timin
Photo by Ross Hoffman
Ars Nova Workshop, a presenter of improvisational music helmed by the young Mark Christman, is doing well for itself. Crowned Best Jazz Series in 2000, 2001, 2002, and 2005 by the Philadelphia City Paper, Ars Nova has been responsible for more than 200 avant-garde performances since its inception.
Primarily, Ars Nova presents its concerts on the western edge of the University of Pennsylvania campus at alternative venues including the Slought Foundation, a gallery for conceptual and experimental art, and International House Philadelphia, which includes a large concert hall that plays host to Ars Nova's "Ancient to the Future" series celebrating several "elder statesmen" of the Association for the Advancement of Creative Musicians, Inc. (AACM). In November, the Anthony Braxton Sextet packed in an audience of 380. In this neighborhood, concerts draw avid listeners from both the international intellectual scene at UPenn and the West Philly natives who remember, or whose parents remember, when jazz clubs used to line the streets of the city.
On the evening of January 19, I decided to check out a free Ars Nova event at the Rotunda, a classically-inspired space clearly battered by years of use by groups apt to scrawl and tag all over the basement where I went in search of the ladies' room. On offer was the Arthur Doyle Electric-Acoustic Ensemble.
Doyle, a saxophonist, flutist, and singer born in Birmingham in 1944, describes himself as performing "free jazz soul." In the '60s, he spent time playing with percussionist Milford Graves, Pharoah Sanders, and the Sun Ra Arkestra. An unfortunate stint in Paris followed, during which Doyle spent five years in prison "horn-less," but writing "prolifically nonetheless, producing the first compositions for his songbook: a massive, 300-piece aural memoir." The work appeared on the albums Plays and Sings from the Songbook, Vol. 1 (1992), The Songwriter (1994), and Do the Breakdown (1997). In the '90s, Doyle worked with, among others, bassist Wilber Morris and Sonic Youth's Thurston Moore.
Thursday night, Doyle came onstage alone in a day-glow orange cap with shoulder length dreads and an African-print shirt. He sat down and started to free-scat, a rapid-fire mumble and shout. His drummer, Ed Wilcox, joined in soon after, breathing quietly into a harmonica. Next came the rest of the ensemble, Daniel Carter (saxophones/trumpet), Vinnie Paternostro (electronics), and Dave Cross (turntables).
Wilcox worked hard to keep the group in motion. He claims to have "steered" his own group, Temple of Bon Matin, "on a 15-year tightrope between free jazz and heavy metal." Pretty soon his shirt was off, and he was all over his kit, building a palette of sound. Doyle played his sax hard when he could but rested a few times, breathing heavily, nodding in his chair.
Carter, Paternostro, and Cross watched him closely. The electronics hummed, sang like a bird, whined. They sampled Doyle's screeches and honks, looped them, processed his scats and yells. Their expressions conveyed that they weren't sure where Doyle was going next, but maybe they were fine with that. Doyle's performance was ideally grizzled for the technology his band mates dropped over him. He was raw. When Doyle spoke to the audience, we strained to understand: "Amen bye bye, I'll see you all later, bye," I think I caught in his farewell.
***
Alyssa Timin works as program associate at the Philadelphia Music Project, where she helps to fund Greater Philly's flourishing music scene. She edits PMP's self-titled in-house magazine to which she recently contributed a feature article on music education.