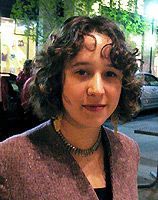 Alyssa Timin
Photo by Ross Hoffman
Chamber Music Now kicked off its fourth season of eccentric, do-it-yourself presenting with Odd Appetite, a cello and percussion duo recently expatriated to the Netherlands. Held at the Ethical Society of Philadelphia, a secular humanist landmark on the south side of Rittenhouse Square, the concert itself opened with DJ Starkey (lifting a convention from the pop world), who offered a laptop work specially composed for the evening. The music moved fast, favoring metallic clangs and wooden creaks, big dynamic shifts cuing changes in attention. He bobbed his head and wriggled his shoulders as if dancing in the DJ booth.
Cellist Ha-Yang Kim and percussionist Nathan Davis, also both composers, kept the energy extremely high, though time stretched between their pieces. "Almost every piece on the program has a different tuning," Kim explained. Several of these pieces, Folklore, by Yannis Kyriakides, Kebyar Untai, by Davis, and Oon, by Kim, stressed influences of non-Western and folk traditions. For Kebyar Untai, Davis transposed a raga and used elements of Balinese gamelan, and paired the cello with a hammered dulcimer. Oon also used Balinese and Carnatic music as points of reference.
The program also included the furious Workers Union by Louis Andriessen, a galvanizing work that had Davis stomping the pedal of a kick drum rigged behind him, rocking it hard on its stand, and banging aluminum cans. Kim's hair and bowstrings were flying. For David Laganella's Moths in the Closet, the duo kept their eyes locked on each other, calling and responding. What's on the page? I wondered.
The performance concluded with Matt Tierney's Cant, the title of which "signifies the attempt to deviate from a vertical or horizontal plane or surface, a thrust or motion that creates a slanted or oblique surface, a unified form to extreme juxtapositions." The two lower strings of Kim's cello were tuned down a half step each, and Davis worked with a set of microtonally-tuned cowbells and aluminum pipes. Certainly, if your taste was for brainy, gutsy playing, Odd Appetite satisfied.
***
Alyssa Timin works as program associate at the Philadelphia Music Project, where she helps to fund Greater Philly's flourishing music scene. She edits PMP's self-titled in-house magazine to which she recently contributed a feature article on music education.