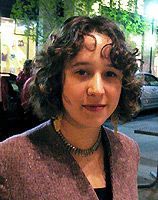 Alyssa Timin
Photo by Ross Hoffman
The Philadelphia Live Arts Festival and its more rough-and-tumble twin, the Philly Fringe, took over the city's posh Old City district for two weeks at the beginning of September. One is hard pressed to find a show in these chronically edgy festivals that is not interdisciplinary, but Cynthia Hopkins's Accidental Nostalgia: An operetta about the pros and cons of nostalgia fared better than most between those assaulted boundaries.
Accidental Nostalgia is a tour de force for this maybe 5'2″ powerhouse performer, who carried the show with an evening's worth of song and dance about the dark underbelly of memory. The operetta is framed as a book-tour lecture by a neurologist who's promoting How to Change Your Mind, a book she's written following discoveries about her own past. She has selective amnesia. She does a song on "How I Became My Own Experimental Subject." There's PowerPoint involved.
The mystery at the heart of the show, and at the heart of the neurologist's memory loss, is a possible patricide after possible incest. Darkly themed and certainly mature, the show is balanced by Hopkins's deadpan humor, her steely confidence, and her curling country voice. The music is at turns playful and emotional, the choreography sexy and ironic. Though she's alone onstage much of the time with a great big video screen, Hopkins is also occasionally joined by her tech guys and back-up singers, who look like they should be riding Harleys.
The show contains a great deal of this visual subversion, though it's done subtly. Hopkins's costumes are sort of butch, sort of femme, adjusted and angled suits that complicate their own purpose, reveal the unexpected. Where lesser material might rely on the edgy or provocative for effect, Hopkins's piece, in my estimation, actually needs these tactics. On my reading, this musical theater work is really an allegory about taking ownership of the body and mind, transcending a pitiful past in the endless opportunity of appropriation and creation. This interdisciplinary operetta is about maturity, about the future, and it owns the video camera as equally as it owns the blues.
***
Alyssa Timin works as program associate at the Philadelphia Music Project, where she helps to fund Greater Philly's flourishing music scene. She edits PMP's self-titled in-house magazine to which she recently contributed a feature article on music education.