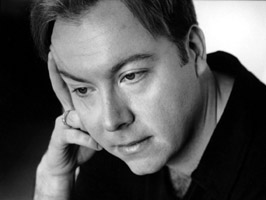 Keith Fitch
photo by Deborah Lopez
Music Indiana native Keith Fitch, 33, studied at the Indiana University School of Music, where he completed his D.M. in 1995. Dr. Fitch currently resides in New York City, where he is the Assistant Director of the Mannes College of Music Preparatory Division and serves on the composition, music history and chamber music faculties. His works have been commissioned and performed by the Civic Orchestra of Chicago, the American Composers Orchestra, the New York Youth Symphony (First Music 10), and the Christopher String Quartet. Among his many awards are three National Society of Arts and Letters awards, three ASCAP Young Composer Awards, and an Individual Artist Grant from the Indiana Arts Commission. He has been a resident fellow at the Atlantic Center for the Arts and the MacDowell Colony.
Fitch wrote Totem on commission from the New York Youth Symphony's FirstMusic program in 1993. The piece is in one movement of approximately ten minutes. Fitch describes the piece as an a "big arch," divided into three sections: a slow opening; a longer and faster middle section comprising a series of accelerandi; and a slow, coda-like section that refers back to the music of the opening. Totem was "loosely influenced," according to Fitch, by the 1947 painting by Jackson Pollock entitled "Full Fathom Five." "The piece doesn't refer to the painting," Fitch explains, "but often with my music, a painting or a line of poetry will create a musical image, and then the musical image will take off on its own."
Fitch thinks that Totem will be easy for the Orchestra audience to follow. An "alternating Major and minor third figure" generates much of the material in the piece, and collides in a "loud climax" with a faster, repeated note motive. Fitch devotes significant time to orchestration, a concern developed from "fifteen years playing in an orchestra." He calls the piece "dark, ritualistic, and lyrical."
Being selected as a finalist in the Competition came as a "complete surprise" to Fitch. He thinks that the "audience participation could be really exciting." "The more that we can do to get the audience connected to new music, [to feel like they are a] part of the whole thing, that they have a stake in it, [the better]," Fitch elaborated. He hopes that this project will "open the ears" of audience members to other pieces of new music, as well.
Fitch's new set of songs, "The Imagined Garden," based on texts by Hart Crane, will be premiered by soprano Annalise Eberhart at Mannes in October. He is "putting finishing touches" on a set of cello and piano pieces for cellist Barbara Steinmallow entitled "Come Soon, Come Soon." Two large commissions are also sitting on Fitch's desk: a piece for the Jubal Trio (soprano, harp, and flute), and a piece for the "Trout" instrumentation (violin, viola, cello, bass, piano) for Swarthmore College.