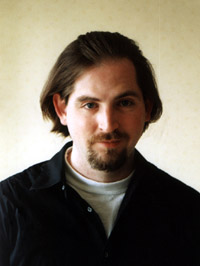 Kevin Beavers
photo by Lorin Burgess
Kevin Beavers, 29, was born in Colombia, grew up in West Virginia and holds degrees in composition from West Virginia University (B.M.) and the University of Michigan (M.M. and D.M.A. candidate). Currently, he is studying and working in Amsterdam on a grant from the Netherlands-America Foundation; he also teaches composition and theory at the Interlachen Summer Arts Academy. Mr. Beavers is the recipient of a commissioning grant from the National Endowment for the Arts, the Charles Ives Scholarship from the American Academy of Arts and Letters, the Lee Ettleson Prize, and four ASCAP Morton Gould Awards. He has received commissions from the Tanglewood Festival Orchestra, the Detroit Civic Orchestra, and the Brooklyn Friends of Chamber Music.
Beaver's Sinfonia, first performed by the Tanglewood Festival Orchestra in 1997, consists of three contrasting movements. The first movement, "Overture," "starts big," according to the composer, and features a "startling" country fiddle tune in the middle of an otherwise abstract texture. The second movement, "Winter Moon," is based on the poem of the same name by Langston Hughes. Beavers compares the movement to a Mark Rothko painting, with "very little happen[ing]." It starts with some difficult, extremely high "icy" chords in the winds. Beaver named the last movement, "Chatterbox," after a friend. Beaver describes the movement as a "big contrast" from the previous material. There is a "rap-like gesture" he gives to the winds, a steady drum beat, and a "very happy-go-lucky exciting finish" to this movement.
With Sinfonia, Beavers wanted to express "some of the shock and surprise of how life can twist and turn." Beavers began work on the piece right around the time that his father was diagnosed with terminal cancer. Sinfonia also betrays Beaver's ongoing interest in American vernacular music. An earlier work of his, Native Tongue, matched "techno grooves" with "avant-garde music," and "Duke Ellington jungle music" with "Reich textures."
Beavers is looking forward to the competition, partly because it will allow him the opportunity "to be working with the best," partly because it will give the audience "the chance to be active participants." He sees this as an inspiring event for the orchestra players, as well, because they will "really have captive ears." "The new music world needs to take a new shot in a new direction," Beaver stated. "This is a good starting point."
Upcoming projects for Beavers include the premiere of a new set of songs, based on the poetry of Erin Galligan, by mezzo-soprano Wilma Wever at Weill Recital Hall. He is also writing a piece for the Cassatt String Quartet and soprano Stephanie Houtzeel, based on the poetry of Andrew Sofer.