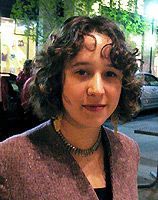 Alyssa Timin
Photo by Ross Hoffman
Eleven months of the year, Abington Art Center, nestled in the northerly Philadelphia suburb of Jenkintown, hosts contemporary art exhibits in its welcoming and airy space. August, however, is given over to displays of children's art. On the evening I went to the Art Center, they were showing The Spongebob Squarepants Movie, catering to the tastes of over a hundred youngsters gathered on the verdant lawn.
Such family-friendly summer programming played a breezy counterpoint to the cerebral and intense installation I was there to witness: The Lost Meeting, a collaborative project between J. Morgan Puett, spurse (a nebulous collective), Philadelphia-based curator Julie Courtney, and Bang on a Can's David Lang. Down a hill and into the thin woods, I followed a short cedar chip trail to a small building where, for something like a century, a group of Quakers came to worship silently.
The installation takes as its point of departure a Quaker theological dispute tied to the history of this meetinghouse, a dispute on the role of "mediators" in religious worship: the Bible, primarily. The Lost Meeting seizes on the concept of the mediator and its importance to human meaning-making, and, via some algorithms fashioned from data sets based on the Quakers themselves, arrives at a reinvention of the space so radical that many people who have come to see the installation (so I hear), have hated it. New music lovers with some affection for highly mathematical and conceptual approaches may find this visual work right up their alley.
David Lang's contribution to the project takes a different, though in a sense no less unconventional tack. He's written a round called No Pain, to be performed outside the meetinghouse, to the meetinghouse, by anyone who happens to be around—any musical ability, any instrument—on September 11 at 2 p.m. Brochures for the installation include a scanned copy of the music, but the instructions include, "All performers are encouraged to adapt, arrange, improvise upon, ignore or transcend this score."
The words to this work are by William Penn and read, "No pain, no palm, no thorns, no throne, no gall, no glory, no cross, no crown." This iconoclastic view stands to balance the interpretive riot within the meetinghouse. It's a chance to participate in a peculiarly democratic chorus. Go sing.
***
Alyssa Timin works as program associate at the Philadelphia Music Project, where she helps to fund Greater Philly's flourishing music scene. She edits PMP's self-titled in-house magazine to which she recently contributed a feature article on interdisciplinary performance.