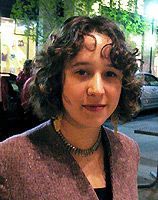 Alyssa Timin
Photo by Ross Hoffman
In the dead of Philadelphia's summer, when even the haze is too lazy to lift, there's at least one venue still cranking out cool concerts every Friday afternoon. The Philadelphia Museum of Art's popular Art After 5 series hosts local jazz artists all summer long, this week with pianist Mark Kramer, lauded by Nate Chinen as "an unheralded Philly jazz institution," and Eddie Gomez, longtime bassist for the Bill Evans Trio.
Kramer grew up taking violin lessons from members of the Philadelphia Orchestra, transitioned to bass and saxophone, then eventually settled on jazz piano. All About Jazz credits jam sessions at Kramer's apartment on Ridge Avenue as the locus of "an unwritten portion of jazz history." And while Kramer served as jazz director at Ye Olde Temperance House in the Bucks County suburbs—winning Philadelphia Magazine's "Best of Philly" Jazz Award in 1999—Kramer was simultaneously holding it down as the head of psychopharmacology at Merck Research Laboratories. Around 2001, Kramer moved on from both gigs and began playing more in Center City Philadelphia, as well as "recording a lot of music" with Gomez, as Gomez himself put it.
The Art After 5 performances are held in the museum's Great Stair Hall—early birds get seats at cafe-style tables and can order dinner and drinks. Latecomers perch on the wide, cool stone of the Stair, which rises amphitheater-style from the stage and affords an excellent opportunity for people-watching as curious museum-goers wander into the hall. Indeed, these concerts are ideal for the relaxed Friday evening when you're looking for great live performance but don't mind the low effervescence of ambient conversation. On the "portico," the entrance facing the famous Rocky steps, and, as advertised, the best view of downtown Philadelphia, your first martini is a dollar off. I watched a wedding party sweat through some photos while their stretch Hummer limousine waited to be on its way. Another shoot was occupying a nearby bench, and some kids, outsmarting us all, were splashing around in the courtyard fountain.
Back inside, Kramer and Gomez seemed pleased to entertain the crowd, were chatty themselves, and offered context for most of their songs. Their duets were lively and expressive, Gomez's strings slapping eagerly while Kramer's touch leaned toward the emotional. To me, the sound was somehow naked, vulnerable in the echoing hall, despite the substantial audience. And though Gomez gave an amiable warning to crowd about a piece being "kind of challenging," the duets retained an appropriate lightness, floating up among the branches of the Calder above, into the wings of the museum. I followed it back past the stained glass windows and the Indian temple, then lost track of time at the Japanese tea house.
***
Alyssa Timin works as program associate at the Philadelphia Music Project, where she helps to fund Greater Philly's flourishing music scene. She edits PMP's self-titled in-house magazine to which she recently contributed a feature article on interdisciplinary performance.