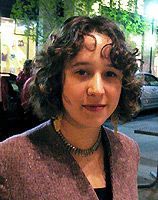 Alyssa Timin
Photo by Ross Hoffman
In the past, I have seen pianist McCoy Tyner and other jazzmen of his generation referred to as "luminaries," which conveys exactly the sort of musical halo these gentlemen have earned after decades playing in the clubs. On April 8, the Philadelphia Chamber Music Society conferred their own symbolic honor on Tyner by presenting his trio at the Gershman Hall of The University of the Arts, in its recently refurbished second floor Elaine C. Levitt Auditorium.
Simply put, the concert was one of the very best I have ever seen. If you get a chance to see Tyner perform, you best take it. On Friday night, the crowd was standing room only, an affirming ethnic mix of baby boomers with a healthy sprinkling of University of the Arts students leaning over the balcony rail in their tee shirts. When Tyner entered the hall and approached the piano, preceded by his bassist, Charnett Moffett, and drummer, Eric Harland, the whole room immediately rose to its feet for the first of the night's several exuberant standing ovations.
The playing was hot. Really hot. If I were Lenny Bruce, I'd say it cooked. Tyner took obvious delight in racing over the high end of the keys, rushing down to the bottom, punctuating the run with an articulate crash. Moffett's solos were so dexterous, slipping back and forth between intricate fingerings and intense bowing that Harland began to make fun of him, flailing around the kit with his brushes. The crowd laughed.
When the second set finished and the standing ovation began to loosen toward the exits, those of us who were still at our seats watched an elderly woman hunch forward from the front row to talk to Tyner. After a moment of whispering, he announced that she had been his music teacher in the fifth and sixth grades.
The audience was delighted and grew increasingly tickled when she presented Tyner with a picture of himself in junior high and announced that she wanted to play. So she did. She then stole a very difficult show to steal by sitting down, playing a few very fine bars, then sweetly bullying Tyner into an encore and announcing to all of us, "I don't mind telling you, I'm 96." The crowd went wild.
***
Alyssa Timin works as program associate at the Philadelphia Music Project, where she helps to fund Greater Philly's flourishing music scene. She edits PMP's self-titled in-house magazine to which she recently contributed a feature article on interdisciplinary performance.